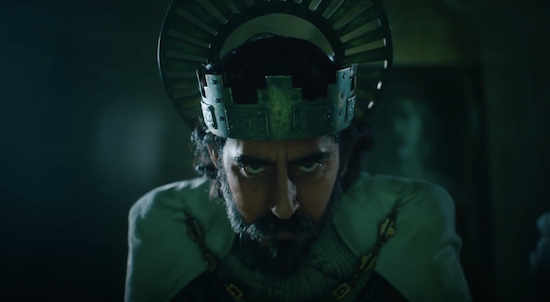 Another day, another cool trailer for Trailer Time. Today it's the latest one for writer/director David Lowrey's The Green Knight.
This movie was actually ready to drop in 2020, but we bet you can guess what happened to that. Fortunately, things seem to be turing a corner, at least here in the US, so it looks like movies are back, baby!
And, of course, with movies coming back that means new trailers. So here we are.
In this latest Arthurian tale Dev Patel plays Sir Gawain in what's described in the official synopsis thusly:
"An epic fantasy adventure based on the timeless Arthurian legend, The Green Knight tells the story of Sir Gawain, King Arthur's reckless and headstrong nephew, who embarks on a daring quest to confront the eponymous Green Knight, a gigantic emerald-skinned stranger and tester of men. Gawain contends with ghosts, giants, thieves, and schemers in what becomes a deeper journey to define his character and prove his worth in the eyes of his family and kingdom by facing the ultimate challenger."
We gotta say, this movie looks crazy as hell and we are totally in. Will watch. In fact, this is one of the movies that may get us back in the theater. Maybe. Or maybe we'll wait for Dune. Anyway . . .
The Green Knight stars Dev Patel, Alicia Vikander, Joel Edgerton, Sarita Choudhury and Sean Harris. It's based on the novel Sir Gawain and the Green Knight by Anonymous and written/directed by David Lowrey.
Look for it in theaters, and likely streaming too, on July 30th. In the meantime, check out the trailer below.