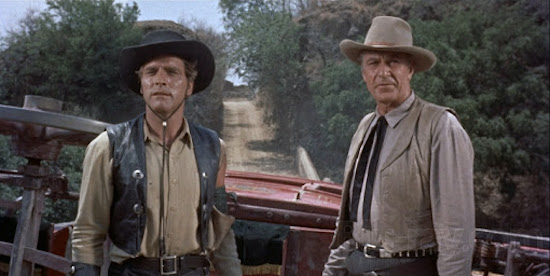 It's time for another edition of Western Wednesdays Again. This week it's the 1954 release Vera Cruz, a film that's often name-dropped in the discussion of "Great and Influential Westerns." Starring genre heavy-weights Gary Cooper and Burt Lancaster, every synopsis you read about this film likely promises adventure, a Mexican countess and bromance. Don't believe them.
Vera Cruz is set in the midst of the Mexican Revolution of 1866, a time when mercenaries and adventurers crossed the border in search of profitable employment. In fact, it's the very same setting as Two Mules for Sister Sara. Who knows, if fanfic had existed in the good old days, someone might have written a sexy crossover. Thank goodness it didn't and they didn't.
The film wastes no time in setting up Ben Trane (Cooper) and Joe Erin (Lancaster) as that most reliable of Western archetypes: the broken down Confederate, and the daring mercenary. Their characters are rigidly defined within the first ten minutes over the matter of horseflesh. Trane shoots his injured horse because it's suffering.
Erin responds by selling him a stolen one. Despite their inherent differences, they bond after a skirmish. Trane then joins Erin's mercenary band. After that, they ride to the next Mexican hamlet seeking riches and their guns are immediately sought after by the Juaristas and Emperor Maximilian.
Continue Reading →