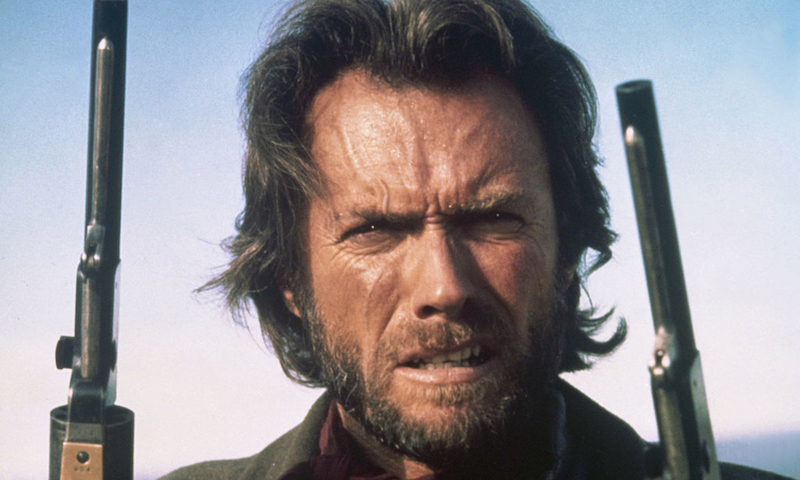 It's time for another edition of Western Wednesday Again where we explore a classic Western film or TV show we love. This week it's my favorite Western. The favorite not even The Searchers can dethrone. Yes, my love belongs unreservedly to The Outlaw Josey Wales.
As popular legend goes, Clint Eastwood wasn't respected as a director until 1993's Unforgiven. A hard look at his directorial credits through the 70s and 80s can speak to why. But I believe The Outlaw Josey Wales was a notable moment of his career, and it's perplexing why he didn't enjoy the kind of watershed approval he did in 1993.
I imagine it's because he almost immediately followed Josey Wales with The Gauntlet. Sadly, Josey Wales kicked off a very dark period of his career it's polite to ignore. If you know your tabloid romances, you know why.
Would it have happened if his career was reversed and he'd won all his Oscar gold for Josey Wales? Would he have taken himself a little more seriously and avoided Pink Cadillac? I'd like to think so.
Of course, that lament implies Josey Wales was a failure, which it wasn't. But it didn't receive any Oscar nominations beyond one for its soundtrack. Roger Ebert even recognized it as an unusual and revisionist Western, but I don't think that critical consensus or popular culture ever followed suit.
This was the time of Sidney Lumet and other 1970s greats, and Westerns were becoming distinctly uncool. In comparison to that year's Network, Josey Wales was just an Eastwood Western with a dash of antiwar sentiment. Even decades later, the story continues to go that he didn't question or deconstruct the mythology until he snarled as William Munny.
But Josey Wales takes apart Eastwood's gruff persona as much as Munny did. He begins the film as a very ordinary man, content to be a farmer as the Civil War rages around him. In a few little sketches, you get such an idyllic picture of Wales' life — a nice house, a loving wife, a son he adores.
The fact that Josey Jr. is played by Kyle Eastwood lends it a real sweetness because they can't stop grinning at each other. Within seconds, his life is in flames, and he's unable to save his wife and son. It's a brutal scene and I think it may be the only time Eastwood has cried onscreen. It's certainly one of the few where he's been humbled by meaner and nastier hombres.
Naturally, Wales turns to revenge. His refusal to surrender to the Union makes him an outlaw and the classic, romantic Confederate who prefers exile over compromise. (Where did you think Captain Mal came from?) He spends the rest of the film dodging bounty hunters and Regulators, and attracting a ragtag surrogate family that he pretends to dislike.
The charm of Wales' character is feigned sneer. He believes he's remade himself into a nasty, ruthless image and that he buried the farmer alongside his wife and child.
But not even the mangy dog in his pack is buying it. They all love him and cling to him. It doesn't matter if he spits tobacco at them, glares, and pretends he's a coldblooded gunfighter.
They know him for what he is — a genuinely good man who is lonely, sad, tired, but too wary to settle. He's not unlike William Munny, who is also fearful of what will happen if he lets his guard down, but for vastly different reasons. Both are sensitive and subtle performances, the kind people just don't ascribe to Eastwood, and there's something especially uncanny about Josey mimicking a Leone antihero simply to survive.
The Outlaw Josey Wales is really a great film — funny, melancholy, beautifully shot, and so episodic that you could stretch it out over a few days without breaking its pace. It's not perfect (the romance is clunky, the make-up is dated, some of the performances are corny), but it's enjoyable without being completely weightless.
Westerns rarely have gunfights and heart, and Josey Wales has both. Unforgiven may have stolen the gold, but it owes a share of the plunder to Josey Wales for breaking the trail.
The Outlaw Josey Wales is available on Blu-ray and DVD as well as various streaming services.
Image: Getty Images