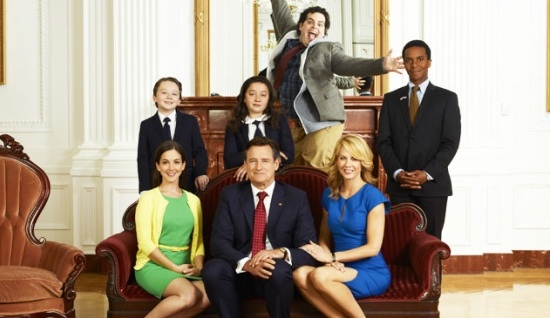 Here's a bunch of previews for several of NBC's shows. These all look interesting, Grimm in particular, but we're also kinda interested in what 1600 Penn has in store.
After all, it features Bill Pullman as the President of the United States, which should be pretty fun. Also, we've got previews for Up All Night and Revolution as well, two other shows that are very popular.
Check out all the previews after the break.
1600 PENN
Not Your Typical First Family
Some families may not belong in public.
Trophy Wife
The First Lady has some advice for a schoolgirl.
Flawed Family First
The Gilchrists aren't your typical First Family.
UP ALL NIGHT
Let's Do Thanksgiving
Despite their ruined travel plans, Chris and Reagan are determined to have a good old-fashioned family Thanksgiving.
Thanksgiving Fail
Reagan's brilliant plan to travel on Thanksgiving backfires, leaving the Brinkleys stranded in Los Angeles for Turkey Day.
GRIMM
Guess Who's Back?
It's the Grimm fall finale, and Adalind's back to finish what she started.
Season of the Hexenbiest
See what's in store for the big cliffhanger episode!
Caught Red-Handed
The truth starts to unravel when Monroe catches Juliette and Renard locking lips!
PARKS AND RECREATION
Ben's Accounting Jokes
Just call him Bond. Municipal Bond.
Case of the Missing Computer
Andy's ready to put his investigative skills to the test!
REVOLUTION
All Will Be Revealed
This Monday after The Voice, Revolution features the music of Led Zeppelin! 10/9c on NBC.