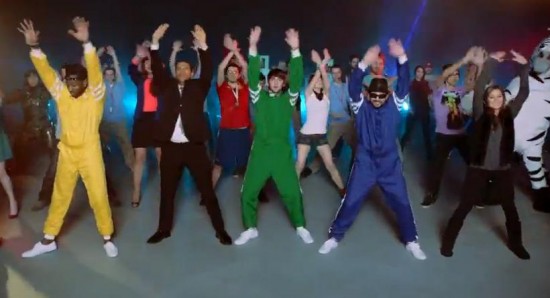 How do you measure a year? Don't worry, I'm not about to break out into song. But my answer does involve at least three of the hottest songs of the year. It also includes a dancing zebra, a man skydiving from space, some gamers and probably close to 1,000,000 calories. In just one day, YouTube.com's year in review video has garnered more than 17,000,000 views (a number that will most likely be obsolete by the time this post even goes live). But the video isn't just a compilation video or highlight reel.
Take a peek below at the cast of YouTube celebrities brought together for this remix rewind of all of their top viewed trending videos. With over billion of views between the stars of the video (over 980,000,000 for PSY's "Gangam Style" alone), some of these people who may not have ever graced a movie screen have become more recognizable than some television or big screen actors.
Some of these people featured have found themselves on TV because of their YouTube fame including iJustine who appeared in the Call of Duty: Black Ops II "Surprise" trailer.
The video starts off with Walk Off The Earth, the band made famous for their five musician/one guitar rendition of Gotye's "Somebody That I Used To Know" before they are interrupted by PSY, the one man pop sensation behind "Gangam Style" who smashes their guitar and kicks off the plethora of dancing and lip synching internet celebs. It's almost like playing "I Spy" with the past year of YouTube much like Weezer's "Pork and Beans" was a few years ago with the early internet sensations.
Take a look below at the full video and see what happens when you put Felicia Day near the guys from Epic Meal Time or Jenna Marbles on a bus with the "girl" from Shit Girls Say.
[youtube http://www.youtube.com/watch?v=iCkYw3cRwLo&w=560&h=315]