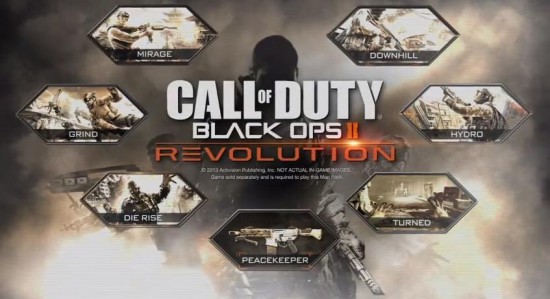 In under two months, more than 427 million hours have been logged into Call of Duty: Black Ops II multiplayer and zombie modes. At this point, it is reasonable for players to be clamoring for some new content. Treyarch has responded with a resounding, "It's coming!" with the the Revolution DLC pack (which had some tidbits leaked late last week). The Revloution DLC pack will be coming out first to XBox 360 on January 29.
The Revolution DLC pack will include four new multiplayer maps, a new zombie map, the first new zombie DLC mode and the first ever DLC weapon. Check out the level descriptions below as well as the full preview trailer after the jump.
Multiplayer Maps
Hydro – Taking place in Pakistan on a hydroelectric dam facility, Hydro offers a unique environmental hazard. Instead of just worrying about other players, gamers will have to keep an eye out when traversing some of the passages of the dam that will actually flood and wipe the player away with it.
Mirage – Set in the middle of a small settlement near the Gobi Desert in China, Mirage features the aftermath of a sandstorm in one of the more visually stunning levels of the DLC pack. Similar in style to Spec Ops: The Line sand duned aftermath but with Chinese architecture, Mirage will have multiple levels for players to explore through the map.
Grind – When you're Activision, you need to put out at least one game a year featuring skate board ramps. Taking place in Venice, CA, the Grind map takes place in a skate park filled with halfpipes, grind rails and tunnels. Sadly, they were unable to implement a boarding mechanic for players in the game.
Downhill – This map brings the first first snow to Black Ops II. It, like Hydro, also has a unique environmental aspect. Players will be able to use the moving gondolas as cover but must also watch their back as a misstep could get them knocked out by taking one to the back of the head as well.
Zombies
Die Rise – Obviously a play off the term "High Rise", this zombie map takes a vertical approach to the survival mode with a death trap filled skyscraper with branching pathways and empty elevator shafts for players to fall through.
Turned – The first new DLC Zombie gameplay mode, players take turns chasing each other down as only one of them remains human as the others take on the zombie roll. Players rack up points by killing zombies or by killing the one human player to become the living human themselves.
DLC Weapon
Peacekeeper – The Peacekeeper is the first ever Call of Duty DLC weapon and is best described as a SMG combined with an Assault Rifle. It will also have its own set of weapon challenges like any other weapon in the game for players to crank out additional XP on.
"With Black Ops II, the team set out to challenge assumptions about what fans should expect from Call of Duty, and there's no exception with Revolution," said Mark Lamia, Treyarch's Studio Head. "It starts with the massive amount of content that Revolutionoffers: four distinct multiplayer maps, an entirely new Zombies map and new Zombies mode, and a new bonus weapon. But quantity is just the start – it's the variety of new gameplay options in Revolution that sets it apart, making it our most compelling DLC offering to date, and a must-play experience for Call of Duty fans."
Make sure to check out the Revolution map pack DLC when it hits XBox Live on January 29th. As always, stick to the Flickcast for more Call of Duty news as it comes.