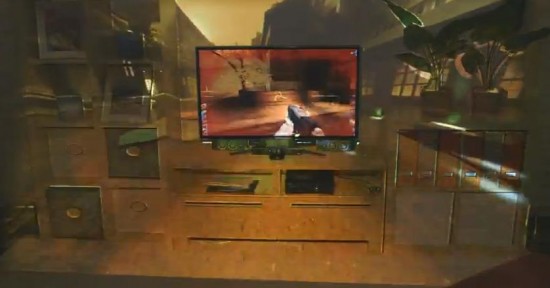 Imagine a gaming world that doesn't end with the edge of your television. Think about what'd be like if the edge of your TV was only the beginning and the world continued around you. Sounds like the stuff of sci-fi that you remember reading about in Fahrenheit 451, right? Well the team at Microsoft is trying to bring this fiction to reality.
At CES yesterday, Microsoft revealed its concept behind Illumiroom. Self described as "Peripheral Projected Illusions for Interactive Experiences", Illumiroom looks to change the way players experience gaming by transforming the room around them to match watch appears on screen. Using the Kinect and a projector, the system scans the room and projects images in ratio and aspect to what is going on on-screen. Field of vision is extended as well as the motion of objects on screen. The unique design and geometry of every room is taken into effect to not just appear as a prerendered design but one manipulated and created in real time.
In the video below, Microsoft claims all of the images are captured as they happened without the use of added visual effects. Should this work as advertised, this would be the next logical progression in the way gamers experience the worlds they enter into. Microsoft promises to reveal more information at thehuman-computer interaction ACM SIGCHI conference in Paris, France. The conference takes place between April 27th and May 2nd of this year.
Stick close to the Flickcast for more news on Illumiroom and if it will happen to the XBox 360 or the upcoming next XBox which the Flickcast predicts will be announced later this year.
[youtube http://www.youtube.com/watch?v=re1EatGRV0w]