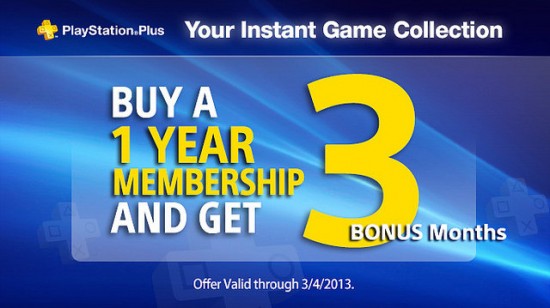 Sony announced yesterday that with the purchase of a 12 month PlayStation Plus subscription, buyers would also get an additional 3 months for free added to their subscription time. A 25% bonus is nothing to ever be disappointed in. But the question comes up if PlayStation Plus is worth the $50 yearly (now technically 15 month) price point.
The PlayStation Network exists as a free service to allow players to play games against each other online. PlayStation Plus is Sony's premium subscriber service that offers both "free games" as well as discounts on in-game content or on full games from the PlayStation store as well. The reason for the quotes is that because this rotating collection of downloadable games can only be played while the player has an active PS+ account. Once the account lapses, the games become locked. All games purchased using the PS+ discount though remain the player's possession and are never locked on them.
Interestingly enough, with this week's release of the $300 Classic White PlayStation 3, the voucher which grants a one year Plus subscription will receive the benefits of the added three month bonus if redeemed before the offer expires.
The PlayStation Plus 3 month bonus offer began yesterday and will carry over until March 4th.
Stay tuned to the Flickcast for more on the PlayStation 3, PlayStation 3, PSN and PlayStation Plus.