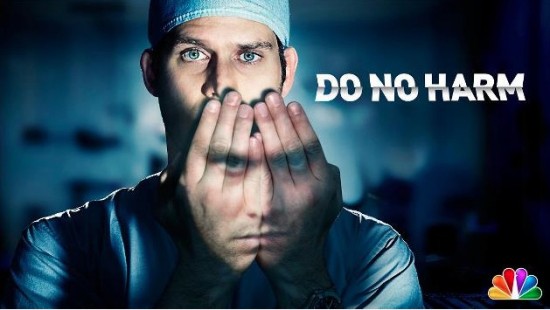 Some shocking (to me, at least) news this week in the world of TV.  Do No Harm has been cancelled by NBC after just two episodes.  I guess if I had been paying more attention I may have seen it coming.  The premiere, which aired on January 31st, had reportedly been the lowest rated series premiere in the history of the major networks.  Episode 2 did even worse.
With some busy time at work cutting into my schedule, I had to hold off on the premieres of Do No Harm and The Americans.  I wasn't sure if I would like Do No Harm, so I decided to watch it first figuring I could always turn it off if it was a dud.  What happened was, I actually enjoyed it.  It had an interesting mix of medical drama and personal drama.  Though I must admit that I was unsure of how they could keep the Jekyll/Hyde aspect going for an extended period of time.  Felt more like a miniseries or one season type story.
I now sit here with one episode (the final episode apparently) on my DVR, and I have no idea if I will even watch it.  I mean, what's the point?  NBC will either axe the rest, air them online, or put the "entire series" on DVD.  It always amazes me that a network that has new content in the can and ready to air will opt for reruns of other programs.  I know that there is a reason why they do it, but you would think new content would always win out.  But, I guess that's why I don't work for any of the networks.
I have been burned by these new shows in the past.  Drive, a FOX drama starring Nathan Fillion (of Firefly and Castle fame), aired just 4 episodes before pulling the plug.  They left 2 ready to go episodes on the shelf, and went with reruns of House instead.  The final 2 episodes never aired.
The Cape, which aired on NBC, aired 9 of the 10 episodes of it's first and only season.  666 Park Avenue, a supernatural themed drama on CBS, has aired 9 of the 13 first season episodes.  They have been cancelled, but CBS is saying the final 4 episodes will air.  Supposedly, there was enough time to give the series some kind of a finite ending.
Anytime a new TV show is advertised, I am reminded of the above shows, and how I have been swindled into watching these programs, only to have them ripped away from me.  So as I sit here writing this, I have the first 2 episodes of The Americans on my DVR.  And I can't help but wonder if I should even watch them.
Has networks' increasing willingness to just drop a show at a moment's notice changed how you choose TV programs to watch?  Do you wait until the show has become established (a certain number of episodes, a full season, a renewal for a second season), or do you just jump in and hope for the best?  Leave us a comment and let us know!