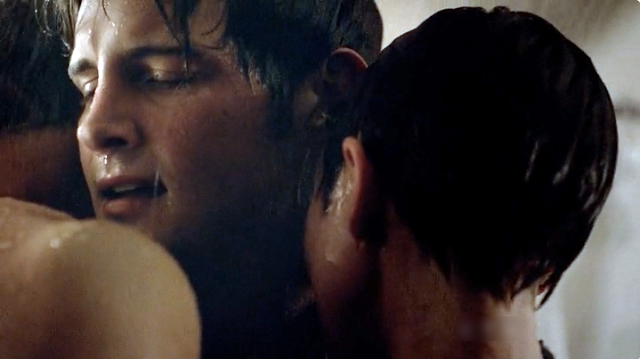 Paul has taken Megan down to the basement, where Emma decides that Megan must die to tie up all loose ends. Paul tells Jacob to do it and goes upstairs.
The FBI team is analyzing the video of Joey to try and determine where they may be keeping him. Hardy gets a call from someone named Jenny, but does not answer it.
A flashback is shown to a woman helping him in a drunken state. An old girlfriend of Hardy's, she finally tires of his depressive/drunken stupor and takes off.
Hardy visits with Joe again to find out some more info on Maggie. Joe is delighted that Hardy killed Rick. He tells Hardy that Maggie was responsible for some serial murders in Arkansas, and that she is "resourceful, tenacious, impressive."
Emma is trying to call Maggie to find out where she is using a hidden cell phone. Joey is at the top of the stairs, and now knows where the phone is. Emma sends him outside to play so she can talk to Paul.
Emma accuses Paul of being jealous that Jacob is hers now and not his. Paul reveals that the lies Jacob has told are those of his previous murders. He has never killed anyone. Emma is devastated.
Back at FBI headquarters, they review tape of a hardware store parking lot, where Maggie has killed a man and taken his car. She bought rope, tape, a flashlight, and magnets at the store.
Hardy receives another call from Jenny, and this time answers it. It is actually Maggie, who has kidnapped Jenny. It is here that we find out that Jenny is in fact, Hardy's sister, and not an ex girlfriend. Maggie wants a meeting with just Hardy, a trade for his sister. She is going off book now, as Hardy killing her husband has taken her away from Joe's plan, and onto a revenge plot of her own.
Jacob still hasn't killed Megan yet, and Emma confronts him about having never killed anyone before. She sends him back down to the basement to take care of Megan.
Hardy goes off to meet with Maggie, but Parker sends Weston to follow him. Hardy agrees to let Weston come with him, as Weston has promised that Parker does not know where they are going.
Hardy falls asleep in the car and has a dream about the time he and Claire went to eat dinner at Jenny's restaurant. Weston's ringing phone wakes him up, but Weston does not pick up the call from Parker.
They arrive a few blocks from the restaurant and Hardy tells Weston that he will leave a side door unlocked for him. Weston's only actions are to do whatever it takes to save Jenny if need be.
When Hardy enters the restaurant, he finds a note from Maggie instructing him to put on a blindfold. He does so, and Maggie enters. When Hardy hears Jenny screaming in the back, he gets up, and Maggie knocks him out.
While Hardy is knocked out, there is another flashback scene of Hardy and Claire. She wants him to open up to her. He tells her about how his mom died of leukemia when he was 14, how his father died trying to break up a robbery, and how his firefighter brother died in 9/11.
As Hardy awakes, he finds that he is tied to a table, with Jenny tied to a chair next to him. Maggie is going to make Jenny watch as she kills Hardy. She pulls out the magnets, and explains to Hardy how the electro magnetic field disturbances caused by the magnets will throw off his pacemaker.
Weston makes his way into the room and shoots Maggie. He removes the magnets from Hardy's chest, saving his life. After being checked out by paramedics, Weston tells Hardy he will probably be suspended for this. Hardy tells Jenny to disappear for a while.
Another flashback is shown of Hardy talking with Jenny about Claire. Jenny can see that Hardy loves her, but Hardy does not want to be a constant reminder of Joe and everything that happened. He feels that by staying away from Claire, he is helping her.
Hardy tells Claire that they have tracked Maggie's cell phone calls to Duchess County, New York, and should have an address in the next two hours. Claire pretty much begs Hardy to stay with her until they get the address, but he declines, saying he has to head back to the station.
Jacob goes back down into the basement, but cannot kill Megan. He lets her go. She runs out the front door, but Emma sees her. Emma and Paul look for her on the grounds. They eventually corner her in the barn and Emma stabs her.
Emma is cleaning up when Paul comes to talk to her. Things are definitely different between them now, as Paul's rougher side seems to have piqued Emma's interest. They share a clothed shower, as Jacob goes down in the basement to find that Megan is still alive and has been tied up again. Jacob comes up to talk to Emma, who reveals that she is in the shower with Paul. She tells Jacob that they have faith in him, and they will get it right. The three share an embrace, with Jacob looking very happy to have his two lovers.