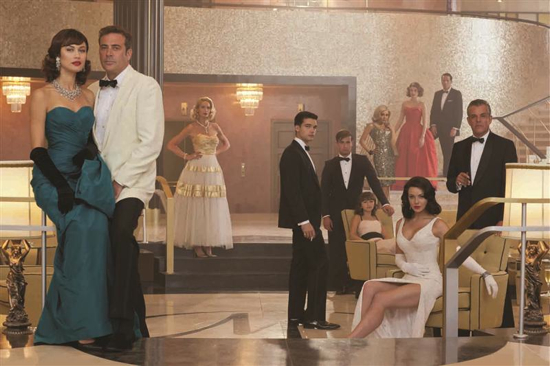 The cool Starz series Magic City returns for season two this Summer, but to get you ready, we've got a great video with a lot of behind-the-scenes stuff to share with you today. In it show creator Mitch Glazer and stars Jeffrey Dean Morgan, James Caan, Olga Kurylenko, Danny Huston, Steven Strait and Jessica Marais discuss the making of season two of the Miami-based, 1950's mob drama.
Here's some more scoop on season two, directly from the Starz press release:
Ike Evans (Morgan) risks everything in a life and death battle to rid his Miramar Playa Hotel of the mob and Ben "The Butcher" Diamond (Huston). Ike's dangerous plan to defeat Ben takes Ike from Havana's glamorous casinos to dealings with a new devil – Ben's boss in the Chicago Outfit.
Ike's wife Vera (Kurylenko) gets a second chance at her former dancing glory, while sons Stevie (Strait) and Danny (Christian Cooke) drift farther from Ike — Stevie toward the power and rewards of Ben's dark world, Danny into the moral righteousness of State's Attorney Jack Klein. Changes in Castro's Cuba ripple to the shores of Miami Beach, and a new world order begins to tear the Evans family apart. Even if Ike's long-shot gamble to take back his hotel succeeds, will the price of victory be too high?
Academy Award Nominee James Caan (The Godfather, Misery, "Las Vegas") joins the cast as Sy Berman, the head of the Chicago mob and Ben Diamond's boss. A father figure to Ben, Sy saw the potential in the young con and encouraged Ben's criminal talents — creating "The Butcher." Unbeknownst to Ben, Sy also has a secret connection to Ben's wife Lily (Jessica Marais). Esai Morales ("Caprica," La Bamba) also joins as Carlos "El Tiburon" Ruiz, a former rebel who fought beside Castro, a hero to the Cubans and is now working to free Cuba from the man he once considered to be like a brother.
Season two will also see the return of Kelly Lynch (Drugstore Cowboy, Charlie's Angels), Yul Vazquez (The A-Team, American Gangster), Dominik Garcia-Lorido (City Island) and Elena Satine (Just Go With It). Along with Mitch Glazer, Geyer Kosinski (Changeling, The Astronaut Farmer) and Fred Berner ("Law & Order," "Law & Order: Criminal Intent") serve as executive producers.