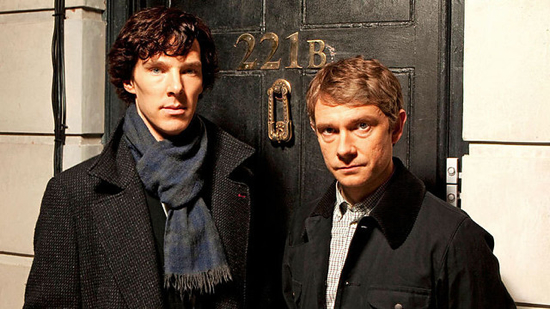 What could be better than a third season of the BBC's awesome Sherlock series starring Benedict Cumberbatch and Martin Freeman as a modern-day Holmes and Watson? Why, a fourth season of course.
That's right, during and interview with UK's Radio Times today, Cumberbatch said he and co-star Freeman have agreed to do two seasons after Season 2.
"We've agreed to two more series but I could get into trouble for saying that," Cumberbatch said during the interview. "All I know at the moment is I'm doing these three and another three." Which, translated to how we do series here in the U.S. means he's currently filming season three of three episodes and then would go on to do a fourth season of three episodes.
He also said in the interview that he and Freeman would like to do more seasons, but as always it depends on their schedules and that of co-creator Steven Moffat, who also runs the BBC's Doctor Who.
So yeah, that's pretty cool. We could all use more seasons of this excellent show. And more Cumberbatch and Freeman isn't a bad thing either.
Look for season three of Sherlock to hit the U.S. later this year.