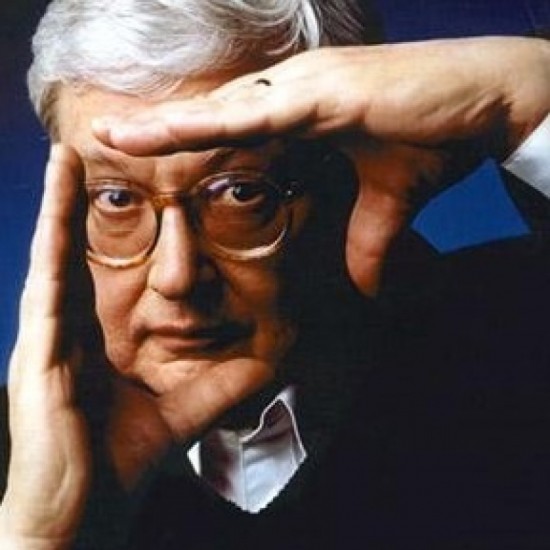 The first time I met Roger was in the Lake Screening Room. I had just moved to Chicago and done a few reviews at the AMC East and on Michigan and the old Kerasote. This was a guy I'd been reading all my life, writing down notes about which "Great Movies" to see, which overlooked gems I should seek out (like The Late Show and Bring Me the Head of Alfredo Garcia), and even, occasionally, the odd book recommendation.
Anyway, I entered the small waiting room at Lake. No one else was there save for the projectionist, whose door was open and you could see him preparing the machine for the 12:15 show. I grabbed a quick sip from the drinking fountain and then took a few steps toward the men's restroom. Just as I did, the door opened, and there emerged Roger. The guy I'd idolized for as long as I can remember, and he nodded to me, indicating that he was finished in there.
Another time, at the AMC East, we were screening Unstoppable to a packed house. Roger was sitting front row, on the aisle, as always, with his wife Chaz next to him. A handful of frat boys behind me realized whom he was and got excited, murmuring a flurry of questions and reassurances, "Is that Ebert?" "I think that's Ebert." "That's gotta be him!" One of the braver ones got up from his seat, ambled down, and said, graciously to Roger, "Mr. Ebert, I'm a big fan of yours, and I just wanted to say thanks for your great reviews, and you're really [inaudible]." Roger made a small motion with his hand that I couldn't see. The frat boy came back to his seat and, giggled, said, "He gave me a thumbs up!"
Of course I didn't really know Roger, not much outside of his writing anyway. I'd see him often, always sitting on the backmost aisle at the Lake room, glaring at you as you entered, but we didn't talk much outside of some greetings. The most contact I had was when he rewteeted something from me, about Ernest Hemingway's six-word story, "For sale: Baby shoes. Never used." Roger misread what I had sent, saying that Hemingway felt it was the best thing he'd ever read instead of wrote. But no grudge held.
Lately everyone was asking Chaz at the screenings about how he was and if they could do anything and give him their best. Even in his weakened state, the guy had quite a presence and was liked by this group of people who are known for being nasty — at least most of the time.
Born in 1942 in Urbana, Illinois, he joined the Chicago Sun-Times in 1966 and stayed there for 46 years as a film reviewer. He was a champion of several groundbreaking films such as Bonnie and Clyde and Bring Me the Head of Alfredo Garcia that, though poorly received at the time, have gone on to be regarded as classics. He also tried his hand at screenwriting with Russ Meyer's Beyond the Valley of the Dolls.
Known for his more lyrical approach to writing reviews, Ebert won the Pulitzer Prize in 1975, the same year he teamed with Gene Siskel from the Chicago Tribune and launched the television show Coming Soon to a Theater Near You.  In 1978 the show was renamed Sneak Previews and moved to PBS, and again in 1981 as At the Movies for Tribune Broadcasting. In 1986, it became Siskel & Ebert & The Movies for Buena Vista Television and introduced the trademark "Thumbs Up/Thumbs Down" rating system. Their legendary partnership that lasted until for 24 years until Siskel's death in 1999.
In later years, he was incredibly vocal on social media, particularly Twitter, as his voice had been taken away due to a 2006 operation. He continued writing reviews, articles, memoirs, and everything in between. His passing comes two days after a tweet mentioning that his hip fracture has led to a cancer diagnosis.
His memoir Life Itself is being made into a documentary directed by Steve James. His reviews can be read at RogerEbert.com. His commentaries for Citizen Kane and Casablanca are also unmatched.
We may all disagree on some of his reviews, but we can all agree he'll be greatly missed.