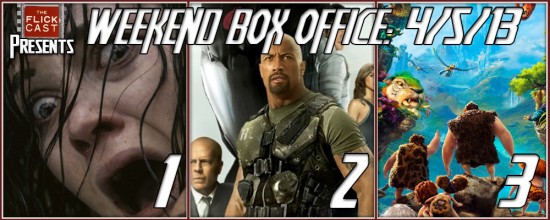 This weekend had the distinct feel of a throwback celebration with a Reboot-make, a re-release and a sequel to an 80's iconic franchise inhabiting three of the top four positions.
Coming in at number one, with $26 Million, was the incredibly well advertised Evil Dead which played very strongly for an extreme horror film aimed squarely at a specific niche. Due, in part, to that specific audience target, the film's reviews have been mixed and the word of mouth has been less than stellar on the whole. Still, the film plays very well to its target audience and with a big weekend under its belt will go into the books as a big win for all involved.
The next two spots ended up being an estimated tie between last weekend's top two films. G.I. Joe: Retaliation and The Croods. Both brought in an estimated $21.1 Million, with the tie break going to last weeks number 1 because the Rock is in that one and the main event at Wrestlemania this weekend.
Normally I stop at three, because who gives a damn about losers, but coming in at number 4 this weekend was the 3D re-release of one of the greatest films of all time. Jurassic Park boasted one of the better 3D conversions and that sweet, sweet John Williams music so of course it was going to make some money. However, the $18 Million haul is probably not going to rekindle the 3D conversion gold rush.
This particular re-release is a win for all involved to be sure, and now Jurassic Park will most likely get that $1 Billion internationally milestone, but if this movie can't break the bank with a re-release, it is hard to fathom what a Forrest Gump re-release would bring in.
Next weekend begins a stretch of high-ish profile films releasing every week till Iron Man 3 kicks off the summer blockbuster season May 3rd. Scary Movie 5 has some name value and 42 is a biopic about the most important baseball player of all time. Which is releasing in April to take advantage of the new Baseball season and Jackie Robinson day, which is a commemorative day in the MLB where everyone wears number 42. Talk about killer advertising! Why didn't Hitchhickers Guide to the Galaxy think of it?