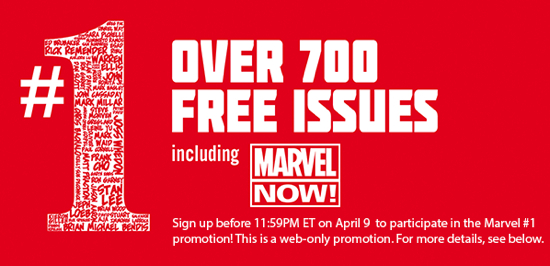 The first time they tried this, it kinda had a problem. Sadly, so many people seemed to want free digital comics (surprise!) that the servers of Comixology were overwhelmed and the whole thing was shut down.
But now, Marvel and Comixology are back and ready to try it again. That's right, if you want free comics (and again, surprise, who doesn't?) this is the deal for you.
Here's all the scoop from Marvel and Comixology's Official Press Release:
New York, NY— April 8th, 2013— Everyone remembers their first comic book, and now – Marvel is giving you over 700 of them FOR FREE with Marvel #1! Head on over now to the special promotional page and sign up to get in on the action before Marvel #1 registration ends at 11:59pm ET on April 9th, 2013.
ComiXology and Marvel are pleased to announce the return of Marvel #1, a unique opportunity for fans to experience all of their favorite Marvel Super Heroes, and some new ones, by accessing over 700 #1 issues for free. These free comics can be read on the comiXology platform – available across iPhone, iPad, Android, Kindle Fire, Windows 8 the Web at comiXology.com – and the Marvel Comics app (iPhone, iPad, iPod Touch & Android devices) and online in the Marvel Digital Comics Shop, both powered by comiXology.
The difference this time, says Comixology, is Marvel will be allowing downloads only in batches and not all at once. That means downloads will take that much longer but the hope is this will prevent server crashes.
Let's hope it works this time.