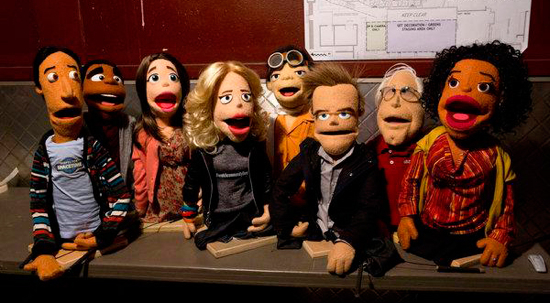 It should be obvious by now that in addition to movies and other geekery, we really love TV. We especialy love shows like Community and Parks and Recreation.
Fortunately, we're going to get brand new episodes of both those shows tonight, as well as a new episode of The Office. To get you up to speed and ready for tonight, we've got some previews for the episodes, as well as a new video about another show we're into: Hannibal.
Check out all the previews after the break. The fun starts tonight at 8/7C with Community.
COMMUNITY
Get Felt Up
Things get intimate on this week's puppet episode!
PARKS AND RECREATION
Ron's Personal Information
As hard as Ann tries, Ron refuses to reveal any real personal information for his medical records.
Ben's Big Meeting
Tom lands Ben a meeting with "scent artist" extraordinaire Dennis Fienstein.
THE OFFICE
A Mouse on a Cat on a Dog
While meeting with his new agent, Andy brushes shoulders with a small-time celebrity.
Andy Dreams of Hollywood
Inspired by feedback from the online promos for the upcoming documentary, Andy decides to pursue a career in Hollywood.
Roseanne Tells All
Guest star Roseanne Barr talks about her guest starring role and working with Ed Helms.
Guest Star Paul Feig on "Stairmageddon"
Paul Feig talks about his guest starring role in "Stairmageddon."
HANNIBAL
Season Sneak Peek
The closer he gets… the further his mind goes. Get a look at the intrigue in store this season!
Therapy Session
Dr. Hannibal Lecter takes a deep dive into Will's subconscious.