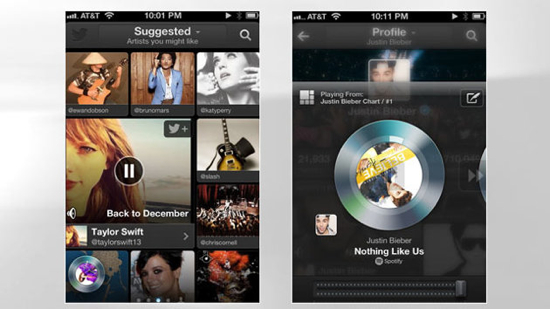 Thank goodness for Twitter because now we have yet another way to find music and get recommendations from fiends and anonymous bots. That's right folks, today Twitter took the wraps off of one of the worst kept secrets of the Internets: Twitter Music.
In case you're somehow not familiar with the new service, it helps users discover music based on what their friends are listening to, along with recommendations from popular artists.
"It uses Twitter activity, including Tweets and engagement, to detect and surface the most popular tracks and emerging artists," Twitter said in a post at its blog. "It also brings artists' music-related Twitter activity front and center: go to their profiles to see which music artists they follow and listen to songs by those artists. And, of course, you can tweet songs right from the app."
Sounds great. Or whatever. Twitter Music will be available on the web and on Apple's iPhone at launch with expansion to other platforms to come in the following months.
So, do you care about this and are you going to use it? Or, will it be DOA like Apple's Ping service was?