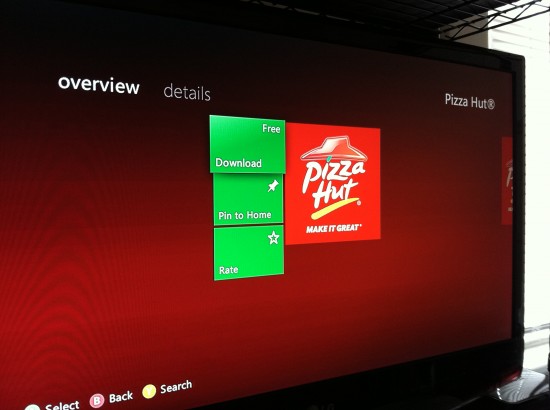 There is no hope for the human race. I am now certain of it. Pizza Hut, purveyor of fine cuisine like the "Crazy Cheese Crust" Pizza and the P'Zone, have taken their internet ordering talents to Xbox Live, allowing users to order from their local restaurant and have it delivered straight to their door.
By eliminating the middleman of using another device like a laptop or tablet or, gosh, even a cell phone, Pizza Hut puts people in control of nearly each aspect of ordering from their menu directly from the new app released today. Orders can be placed for pizzas, wings, pastas, and the always popular sides 'n more option.
There's even a tab listed with the special deals being offered at the time of order. Customers can even choose between delivery or pickup, and can offer to pay through the app with a credit card or pay with cash at time of delivery.
I went through the options of trying to place an order, and it was pretty simple, not much different than it would be if an order was being placed through the pizzahut.com website. When ordering a pizza, you have the options of choosing either a signature pizza, or creating your own pizza, where you have the option to customize nearly all parts of your order.
It will tell you, flat-out, if your order is too ridiculous and won't let you place the order. Disappointing, because I was looking forward to a Crazy Cheese Crust Pizza with ALL THE MEATS and mushrooms, peppers, and pineapple. I guess the order was a bit too extreme for the Xbox to handle.
It definitely is a nice option for some people, I would guess. Pizza Hut tried this before with 'Everquest II' players, letting them order pizza directly through the game without having to minimize it and order through the website (or God forbid pick up the phone and place an order through such and antiquated service).
I never played 'Everquest II' so I can't give a comparison as to how the state of video game pizza ordering has evolved, but you can give it a shot yourself and see how well it works. Ironically, it's listed in the Xbox Live Apps Marketplace under the "Social" tab. Yeah…