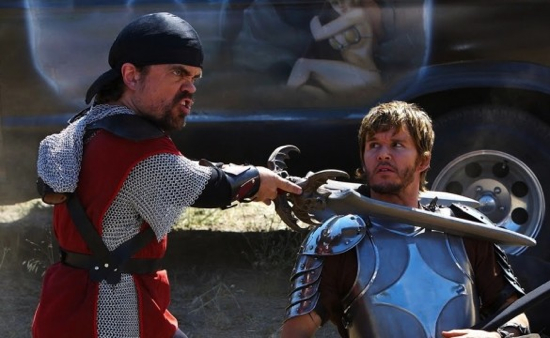 If you recall, we first told you about this movie way back in 2011. Can you remember that far back? Yeah, it's not easy for us either.
Since 2011, the movie has had a rough road and apparently the director and financier/producer have been fighting over it, which is not really a good sign. However, with this new trailer being released, it looks like the movie may finally see the light of day.
We hope things have been worked out to everyone's satisfaction as we support the director's vision around here. We also understand that it takes producers (and money) to make movies happen, so we can't forget that either.
Anyway, to refresh your memory, Knights of Badassdom concerns a group of people who do a little live-action roll playing. No, it's not like that. Well, it could be like that.
Anyway, these guys end up taking the game to a whole new level when they accidentally summon something into our world that has a taste for blood. Who can stop it? Well, it's up to our heroes, led by Game of Thrones' Peter Dinklage (as Hung), True Blood's Ryan Kwanten (as Joe) and Summer Glau (as Gwen). Danni Pudi from Community and Stave Zahn are also in this as well.
So yeah, this could be funny. The trailer is, especially if you're a fan of RPG's as we are. Plus, did we mention Summer Glau and Peter Dinklage?