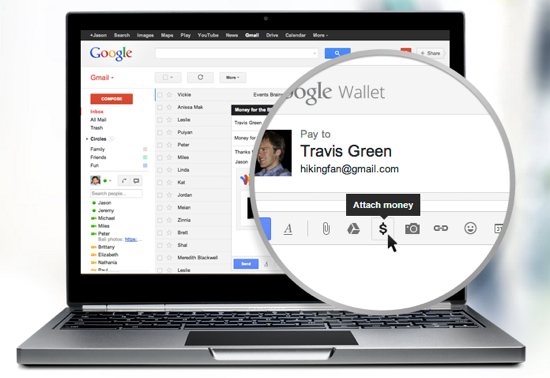 As far as online payment services go, if you want to send money to someone, you're pretty much stuck using Paypal.
Not because it's a great service (ask anyone who's ever needed support or had to dispute an arbitrary Paypal decision) but because there's pretty much no other choice. Well, that's not good enough. We like competition and we think competition is good.
Enter Google. Today at their I/O conference Google announced a new featuring coming to its existing Google Wallet and Gmail services. That feature? Payments.
Put simply, once this feature goes live, you will be able to send and receive money via your Gmail account.
According to Google:
Google Wallet is now integrated with Gmail, so you can quickly and securely send money to friends and family directly within Gmail — even if they don't have a Gmail address. It's free to send money if your bank account is linked to Google Wallet or using your Google Wallet Balance, and low fees apply to send money using your linked credit or debit card.
Sounds great. Suck it Paypal.
Look for this to be rolled out to users in the U.S. over the coming months.