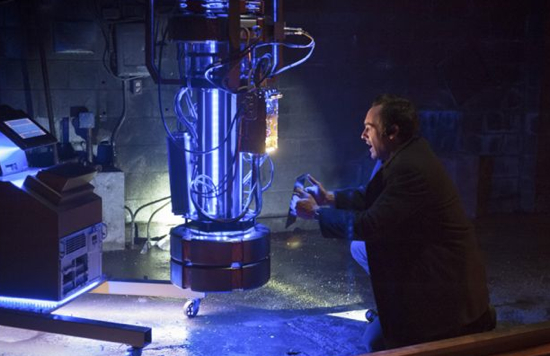 Things come to a head and all hell breaks loose in the final episode of the season.
Oliver awakens, shackled up in a basement. Malcolm tells Oliver that he is truly sorry for what Oliver went through on the island. Malcolm believes he is honoring his dead wife in the same way that Oliver thinks he is honoring his dead father. Malcolm tells Oliver that he cannot beat him, because Oliver doesn't know what his fighting for or what he is willing to sacrifice to get it.
Oliver manages to escape, with the help of Diggle, as apparently Oliver had put a tracking device in his boot. As they are waiting to hear from Felicity on the schematics of the device, Quentin confronts her. She is brought to the police station, but before he can get to far in grilling her, he receives a call from The Hood. The Hood tells him what Malcolm is planning, and in light of this new threat, Quentin lets Felicity go.
Tommy goes to the club to confront Oliver about him and Laurel, but instead Oliver tells Tommy of Malcolm's plan to level The Glades. Tommy lashes out at Oliver, and says he wishes Oliver had died on that island.
Quentin warns the Lieutenant of Malcolm's plans, but when he confesses that he has been in contact with The Vigilante, the Lieutenant suspends Quentin. Quentin says he doesn't care about his job or The Vigilante if it can save thousands of lives.
Oliver tells Moira how Robert really died, by taking his own life so Oliver could survive. Oliver cannot allow Moira to sacrifice the lives of everyone in The Glades to save his. Someone in the family needs to put an end to this, no matter the cost. Malcolm calls Moira and tells he has accelerated The Undertaking. It is starting that evening.
Laurel shows up at the house and wants to know what is going on with Oliver. Oliver tells her she is the only one in his life that is who he thought they were. He warns her to stay out of The Glades, and that she'll know why soon enough.
Tommy tells his dad about Oliver's crazy story of him wanting to level The Glades and rebuild it. Malcolm confirms his plans, and plays Tommy the voicemail of his mother dying in the alley where no one helped her. Malcolm says that the city can't be saved because the people in The Glades don't want it to be saved. They all deserve to die.
Felicity is able to determine that the device is in an old subway station. There is a fault line that runs right under The Glades. While they are looking into this, Moira calls a surprise press conference at the house. She confesses her part in The Undertaking, and fingers Malcolm as the kingpin. Thea rushes off to find Roy, and Moira is arrested immediately.
When Tommy asks Malcolm if he really killed all those people, Malcolm says that he did what he needed to. Malcolm then shows Tommy that he is the copycat archer. Cops arrive to try and arrest Malcolm, but he kills them. Tommy pulls a gun on Malcolm, but Malcolm knocks him out.
Felicity finds out that the device can be set off on a timer, or remotely detonated. Oliver wants Diggle to go try and deactivate the device while he goes after Malcolm. Diggle won't let Oliver go alone, and Felicity offers to deactivate the device. Oliver calls Quentin and tells him where the device is being held, and that the city needs him right now.
Oliver and Diggle arrive at Merlyn Global and see the dead police officers. Oliver finds Tommy, who is cut, but otherwise ok. Diggle finds a secret room, and Malcolm is hiding in there, waiting for Oliver. Oliver and Diggle fight Malcolm, who manages to fight them both off, and even stab Diggle.
Quentin finds the device and Felicity coaches him on how to disarm it. When he tries to disarm it, the timer jumps from seven minutes down to two. There was some kind of anti-tampering trigger on it. Quentin assumes he is done for, and calls Laurel to tell her he loves her. At the last second, Felicity figures out how to disarm the device, and Quentin gets it to shut down.
Malcolm and Oliver are fighting on the roof. Malcolm gets control of Oliver with a chokehold. Oliver grabs an arrow and stabs Malcolm. Felicity radios to Oliver and tells him they deactivated the device. Malcolm says he always has a redundancy plan. There is a second device.
The second device goes off, and the earthquake starts. Laurel is knocked down at her office and trapped under some debris. Felicity tells Oliver that the earthquakes are limited to the East side of town. Oliver rushes over to be sure Laurel is ok, but in the meantime Tommy shows up and saves Laurel. The building explodes and Tommy is trapped inside.
Oliver arrives and runs into the building, finding Tommy trapped. He tells Tommy he will be ok, but when Oliver clears some debris off Tommy, he finds that Tommy is impaled on metal pole. Tommy apologizes to Oliver, and Oliver tells Tommy that he did not kill Malcolm. I'm actually not sure if Malcolm is dead or not. After Tommy dies, Oliver says that it should have been him.
The flashback portion of the episode shows Oliver, Shado, and Slade trying to thwart the missile strike on the plane flying through their airspace. Oliver attacks the man using the radio, and a fight breaks out. Shado is trying to redirect the missile that Fyers has launched, but she falls off the missile launcher. Oliver somehow manages to redirect the missile and it lands right in the camp, killing most of Fyers' men.
Oliver finds Shado's bow, and Slade. Fyers comes out of the smoke holding Shado hostage. Fyers asks Oliver if he is willing to sacrifice his chance to get off the island just for Shado. Oliver shoots Fyers with an arrow, killing him.