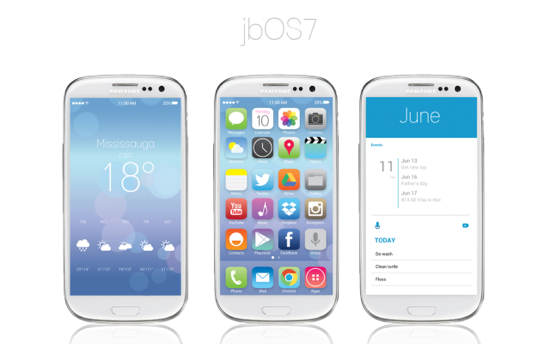 People seem rather divided over the look of Apple's new iOS 7. But love it or hate it, iOS 7 is here to stay. That's great for iPhone and iPad users excited for the new OS, but what about people using Android smartphones?
Fortunately, Android users who do want the iOS 7 experience are in luck because an intrepid Android developer has decided to copy it and create a theme for Android called "jbOS 7." The theme, who's full name is "Jelly Bean OS 7," is compatible with handsets running Android 4.0 and later.
Once installed, the theme mimics the look and feel of many aspects of the iOS 7 interface including the lock screen, home screens, some apps and the new app icons. The photo above gives you an idea of how that looks.
There's also a handy video as well, which we've included after the break. For more on "jbOS 7" or to get the files needed to install the theme, head on over to the developer's website.
In truth, we're not entirely sure why someone using Android would want to do this, but heck, who are we to judge? People do love to modify their Android devices. Maybe the iOS 7 theme will actually catch on?