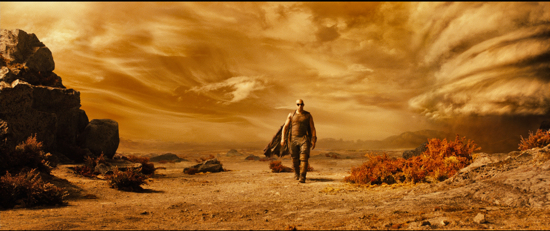 One thing Vin Diesel knows is how to play iconic, kick ass characters who don't need to talk much to get their points across. They're doers, not talkers. Perhaps his most famous character like this is Riddick.
Now, Diesel is back with a new film to continue the saga called, appropriately enough, Riddick. In it, he does kick a lot of ass and take a few names. Here's more on the story:
The infamous Riddick has been left for dead on a sun-scorched planet that appears to be lifeless. Soon, however, he finds himself fighting for survival against alien predators more lethal than any human he's encountered. The only way off is for Riddick to activate an emergency beacon and alert mercenaries who rapidly descend to the planet in search of their bounty.
The first ship to arrive carries a new breed of merc, more lethal and violent, while the second is captained by a man whose pursuit of Riddick is more personal. With time running out and a storm on the horizon that no one could survive, his hunters won't leave the planet without Riddick's head as their trophy.
There's a new redband trailer for the film that debuted at Comic-Con in San Diego this week. Of course, we've got it for you here so you won't feel left out.
Check it out after the break. Riddick arrives in theaters on September 6.