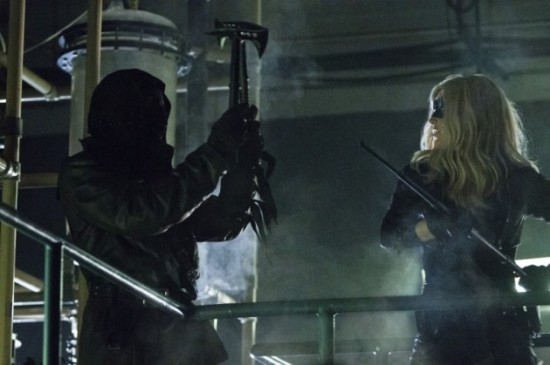 Sara is staying with Oliver while she is in town. Oliver is still trying to convince her to let her family know she is alive. As though she's just going to do it after saying she couldn't all those other times.
Oliver heads to a meeting with the D.A. regarding Moira's case. Laurel has been assigned second chair for the case against Moira, despite the 50 different ties she has to the family. A plea bargain of life with the possibility of parole has been offered, and Moira is considering it. Oliver is appalled that Laurel would work on this case, but Laurel reminds him that the only reason there is a plea bargain on the table is because of her.
Oliver returns to the house, and talks with Sara again. She says that the things she had to do offer her no forgiveness. A man dressed in Malcolm's villain gear attacks Oliver and Sara, but they manage to fight him off, and he flees.
Oliver introduces Sara to Diggle and Felicity, and Sara says that the man was after her, not Oliver. The man is called Al-Owal, and he works for the League of Assassins. Diggle has heard of this league, but thought it was a myth. They are deadly warriors that kill and vanish like ghosts.
Sara confesses that she was a member of the league. She swore them her allegiance, but broke away. The only way to leave the league is through death, so they will come after her and her family.
Moira wants to take the plea bargain. She is tired of fighting, and is not capable of winning over a jury. Thea is very upset at this, and Moira tasks Oliver with getting Thea to be ok with her decision. Oliver knows Moira is hiding something, but she just brushes it off.
Felicity is tracking Al-Owal, and as luck will have it (as it seems to with every episode) they were able to track some kind of chemical left at Oliver's house to an abandoned property that used to produce that chemical. So of course this is where Al-Owal is hiding, and Oliver and Sara go there.
Al-Owal reveals that he himself trained Malcolm, and tells Sara that the child of Ra's al Ghul awaits her return. Al-Owal is not alone, and Oliver and Sara fight Al-Owal and his two assassins. Nothing is resolved, and Al-Owal tells Sara she will stay to bury her family.
Oliver says he will look after Laurel, and tells Felicity to tell Quentin to get out of town. Sara wants to go, but Oliver tells her to stay. Felicity warns Quentin, but he doesn't buy into it. Eventually Sara leaves and goes to see Quentin herself. He can't believe that she is alive.
Quentin figures out that Sara is the lady vigilante, and she tells him that she wouldn't have come to him if he weren't in danger. Sara takes him to her hideout in the clock tower. This is the first time I heard her say the name canary, which I have avoided calling her until it was actually revealed in the story.
Oliver takes Laurel out for dinner, and she takes this as a sign that he is interested. When he rejects her, she wonders what is so wrong with her that everyone leaves. Laurel's door is unlocked, and Oliver checks it out. He finds a knife (which I guess was a warning sign), and doesn't show it to Laurel. Oliver just leaves here there alone, and Laurel takes some more pills.
Sara is talking to Quentin in her hideout when Al-Owal and his assassins show up. Sara has set some traps, so one of the men is taken out right away. Sara and Quentin try to fight them off (with Sara doing most of the fighting). Quentin manages to shoot one of the men before Arrow arrives to help. Sara ends up killing Al-Owal.
Quentin wants Sara to come home, but she can't. She makes Quentin promise not to tell Laurel or her mom. If they looked for her, they'd just end up getting killed by the League of Assassins. Quentin goes to see Laurel, and hugs her and cries, and talks in weird vagueties that say nothing but scream for Laurel to ask for follow up. Which she of course does not.
Oliver and Thea tell Moira that they don't care what her secrets are; they want her to go to trial and not take the plea bargain. Moira relents, and agrees to not take the plea bargain.
Sara is gone, and Oliver tells Diggle that his past just won't stay buried. And maybe he doesn't want to try so hard to keep it buried anymore. He tells Diggle he wasn't always on the island all the time he was gone.
The flashbacks show Sara getting rescued by a freighter boat (the same one Oliver ends up on). She is in a jail cell with the others until a white man takes her back to his quarters. He is a doctor or scientist or something, and wants her help to him save the human race. Oliver is thrown into this same room (piggy-backing off of last episode) and looks up to see Sara. He is surprised to see her, but she kicks him, saying that prisoners do not speak.