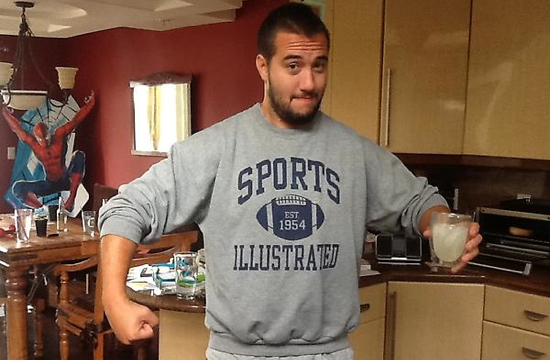 Part of what Whiskey and Waffles lives by is Adult Geek Lifestyle. So far, other than the fact we are both of age, WallE and I haven't done that much you can consider "adult". We have talked comic book movies, opened LEGOs, unboxed Skylanders but the "adult" aspect hasn't been much of a factor… until now. To remedy that, we've added two things to the mix. Drinking and our expert alcohol enthusiast Max No Sleeves.
First, our guest: Max No Sleeves is one of our YouTube friends that you'll also see appearing in an upcoming episode of the LEGO Star Wars Advent Calendar Unboxing. He is also definitely a big star in his own right with over 500,000 subscribers on his channel and over 30,000,000 views. You can check him out on his YouTube channel here for his awesome style of sleeveless comedy.
Max joins us as our first judge in our Mixer cocktail competition between WallE and I. Coming from a bartender background, I bring a knowledge of mixology and bar chef techniques to the table while WallE just enjoys the taste of alcohol… in volume. Max will taste both drinks, analyze and appreciate the cocktail and name a winner.
In this first week of the competition which you can see below and on the Whiskey and Waffles YouTube channel, you'll see us tackle the theme of Comics. Check back in coming weeks for Movies, TV and Video Games too with more special guests.