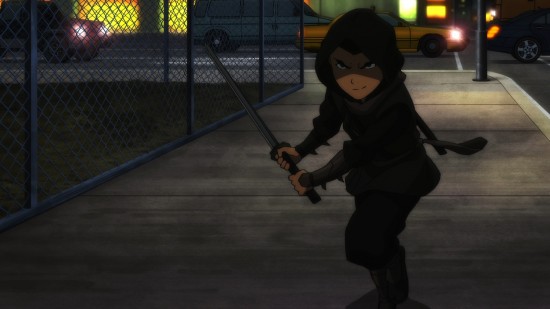 DC Universe will premiere its 20th animated original movie at WonderCon this Friday, April 18. Son of Batman will have its world premiere in the Anaheim Convention Center's Arena theater at 6 p.m. A panel discussion with the cast and filmmakers will follow the screening.
In Son of Batman, Bruce Wayne (Jason O'Mara) learns he has a son, Damian (Stuart Allan), whose mother is Talia al Ghul. He takes the boy in to train him as the new Robin and father and son form an uneasy partnership to take down the criminal enterprise, Deathstroke. Sean Maher (Nightwing) and Xander Berkeley (Langstrom) also star in the movie produced by James Tucker and directed by Ethan Spaulding. Check out a clip from the film below:
An encore screening of the movie is also available Sunday, April 20, at 1:15 p.m. in the Arena. The animated feature, which is based on Grant Morrison's DC storyline, arrives on Blu-ray and DVD May 6, 2014.
Check out the clip after the break.