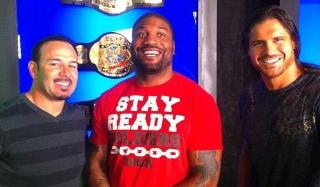 While you might be able to figure out a logical connection between former WWE stars John Morrison and Chavo Guerrero aligning with Rampage Jackson, things get a little more interesting when you consider the other half of this muscled menagerie is Richard Hatch of Battlestar Galactica and the Winner Twins. But it actually makes sense. One thing people don't realize is that while the brutish brawlers, the prince of parkour and the youngest of the Guerrero are all former world champions, they all also have a weakness for sci-fi.
It only makes sense that they'd make their announcement at WonderCon, the sister con to the epic Comic Con International, later today. While we do know that it will go down in Anaheim, CA at 7:30 in Room 300DE, that's where our information runs out. So far, Morrison, Rampage, Chavo and Hatch have all kept tight lipped about any further details.

John Morrison: "Come and find out for yourselves"
Rampage Jackson: "All I'm gonna say is that it's been very hard to keep it a secret."
Chavo Guerrero: "Our fans are going to see a side of us they've never seen before."
Richard Hatch: "I don't think an eclectic group like this, coming from so many different sides of the industry, has ever been assembled to share their combined knowledge."
Whatever it is, the speculation has our attention. Whether it is a comic, a short, a series or a movie, we're looking forward to see what this motley crew has in store for us at Wondercon.