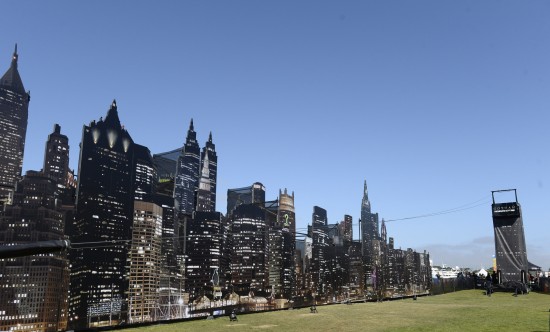 If you've ever wanted to soar over Gotham like the Dark Knight, San Diego Comic-Con 2014 is making that dream come true. CW's new series Gotham is inviting fans to take a ride down the zip line as the city's skies fly past.
San Diego Mayor Kevin Faulconer kicked off the annual convention by taking the inaugural ride on the zip line. Fans flocked to follow after him because everyone secretly wants to be Batman. Almost more impressive than the zip line itself is the enormous outline of Gotham city, which perfectly erases all traces of sunny San Diego as you go zipping past.
If you're down in San Diego, experience the zip line for yourself. It's open Thursday through Sunday 10 am – 6 pm and is located between the Convention Center and the Hilton Bayfront Hotel.
Check out the zip line in action after the break.