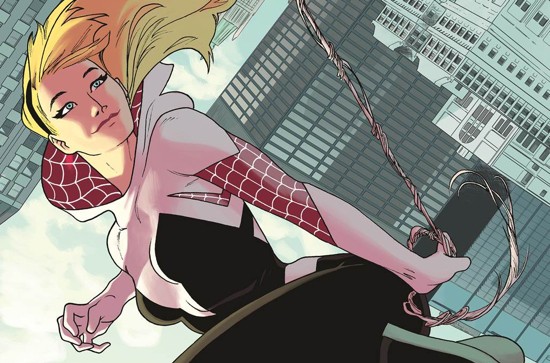 Superheroes are more popular than ever on the big and small screen and in the pages of comics. But often the stories just feature a bunch of super-dudes running around doing super-dude things. Where are the super-women? Don't worry, there's at least one in the form of Marvel's Spider-Gwen, who's about to debut her own brand new solo series.
Here's all the scoop from Marvel's official press release:
"She's Gwen Stacy. She's smart, tough, and charming. She drums in a punk rock band and goes to high school just like you. Only she can lift a car and has spider powers! Just don't tell her father, NYPD Police Chief George Stacy!
But you knew all that already! What you don't know is Gwen is back home following the events of Spider-Verse and you won't believe what she's got waiting for her!
Now is your chance to get on board with the breakout character of the year as she makes her bombastic debut into her very own ongoing series."
Check out the preview pages after the break. Look for Spider-Gwen #1, written by Jason Latour with art by Robbi Rodriguez, to arrive in comic book stores and via digital on February 25.