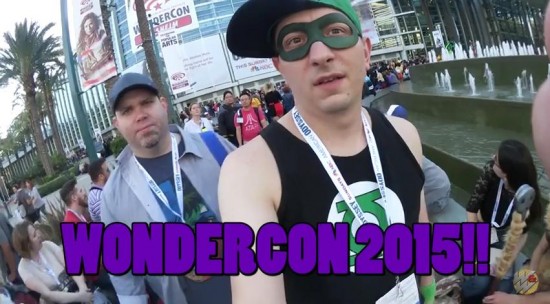 With WonderCon, the Con season of 2015 has begun. Starting with WonderCon it rolls into the Star Wars Celebration, E3, Comic Con in San Diego, VidCon, RTX and wraps up around New York Comic Con… so basically the next six months of our lives. In celebration, JC and Wally went to Anaheim with camera in hand and only one pass. If Wally didn't get in, he'd head to Disneyland. But if he did, he was going to "press" as hard as he could.
This may be the last year for WonderCon to grace the Disney neighborhood as it may be heading to Los Angeles next year. When we were there this year, we did see an influx of Disney / Star Wars hybrids. If they get further from the happiest place on earth, will that still happen?
Most likely. Mashup cosplays have taken over. JC though wasn't having any of that and decided to rock the SoCal Hal look, the douchebag alternate universe version of the Green Lantern from DC's Infinite Crisis MOBA game.