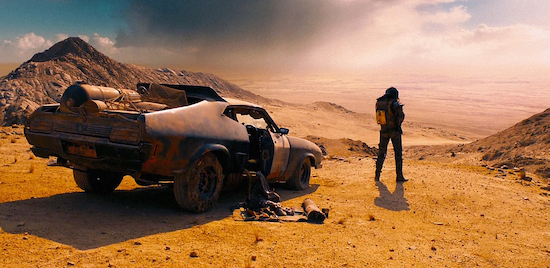 It's time for another edition of What We're Watching. This time around we're watching George Miller's Mad Max: Fury Road. This might surprise you but we've actually discussed this film quite a bit here before. Shocking, right? Hey, at least we're consistent with what we like, right?
Mad Max: Fury Road came out in 2015 and since that time the movie's status and popularity have only grown. It's an action-packed, thrilling ride boasting beautiful cinematography, a pulse pounding score by Junkie XL and exceptional performances by Charlize Theron, Tom Hardy, Nicholas Hoult, Zoë Kravits, the late Hugh Keays-Byrne and the rest of the cast and stunt performers.
Is it a perfect movie? No. Nothing's perfect. But it comes pretty damn close. And sure, some people don't like it or criticize the characters or story, but that's just the nature of things. Some people hate cool stuff. Oh well. You can't please everyone.
Two versions of the film are available. The original cut, in glorious color, and the 'Black & Chrome' version, which is in beautiful black & white. As much as we love the original, the black & white version is a visual and stylistic treat, even with the absence of color.
The 'Black & Chrome' version is especially great if you've already seen the original once (or, in our case, ten or fifteen times) and want to experience the film in a new and highly stylized way. The absence of color doesn't detract in any way from the enjoyment of the film, at least for us. Your mileage may vary. But heck, why not give it a try? You may love it.
If you haven't seen Mad Max: Fury Road, you can remedy that situation right now. It's available on multiple streaming platforms, Blu-ray and in 4K. Until then, check out the trailer for this amazing film below.
Have you seen Mad Max: Fury Road? If so, what did you think of the film? What else are you watching these days?
Let us know in the comments or hit us up on Twitter, Facebook or Instagram. Happy watching!
Note: This post may contain affiliate links.
Photo: Warner Bros.