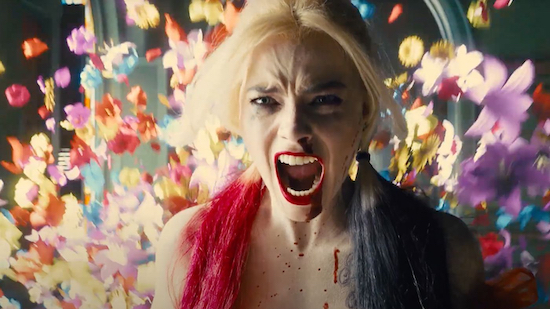 Time for another edition of Trailer Time. For this installment we're bringing you the "redband" trailer for James Gunn's highly anticipated "sequel" to Suicide Squad called, well, The Suicide Squad.
Some familiar faces return for this, as well as a whole new crop of residents of Belle Reve penitentiary. They are put together by Amanda Waller (Viola Davis) "as members of Task Force X and sent to the South American island of Corto Maltese to destroy Jotunheim, a Nazi-era prison and laboratory which held political prisoners and conducted experiments," one of which seemingly produces an enlarged version of a certain intelligent starfish.
In addition to the returning Davis, the film again features Margot Robbie as Harley Quinn, Joel Kinnaman as Col. Rick Flagg and Jai Courtney as Capt. Boomerang. In addition, newcomers join in the mayhem including Idris Elba as Bloodsport, John Cena as Peacemaker, Michael Rooker (of course) as Savant, Pete Davidson as Blackguard, Peter Capaldi as Thinker and Sylvester Stallone as King Shark. Also, look for appearances by Alice Braga, David Dastmalchian, Sean Gunn (of course), Taika Waititi and Nathan Filion (also, of course).
Check out the "redband" trailer for The Suicide Squad after the break. It's likely you'll need to click through to YouTube to watch it. If so, we apologize. It sucks that some people can't handle things, but here we are.
Either way, the trailer looks great and we expect the movie to be the same. Look for The Suicide Squad to drop in theaters and on HBO Max on August 6th.