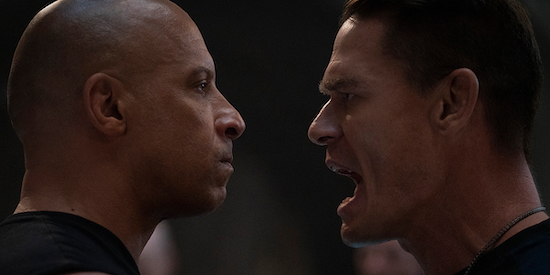 It's getting to the point where movies don't really need titles anymore. You just need a couple digits and people get the idea. This is especially true for the Fast and the Furious franchise, which is near to releasing its ninth installment called, you guessed it, F9. Yep, it's time for another edition of Trailer Time.
Wow. Nine movies. Pretty impressive. And there's gonna be at lest two more. Meanwhile, in this one, based on the official synopsis:
"After the events of The Fate of the Furious, Dominic Toretto and his family must face Dominic's younger brother Jakob, a deadly assassin, who is working with their old enemy Cipher, and who holds a personal vendetta against Dominic."
Anyway, Dom and the gang are back once again for more vehicular mayhem and there's, of course, a new trailer to get people pumped for the upcoming film. And yes, there's a lot of car chases, explosions, action, fights, stunts and, of course, family. Because it's all about family, kids. Remember that.
F9, which stars Vin Diesel, Michelle Rodriguez, Charlize Theron, John Cena, Jordana Brewster, Tyrese Gibson, Sung Kang, Helen Mirren (and more!), hits theaters on Jun 25th.
Until that glorious time, check out the trailer below. In all honesty, it does look pretty great. We're ready.