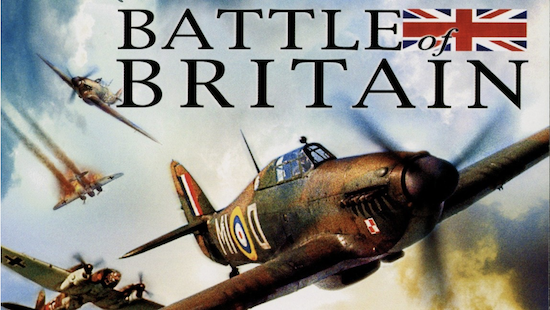 Last time on War Movie Mondays Again we featured the film Kelly's Heroes. This time it's the 1969 Guy Hamilton directed classic Battle of Britain. This film depicts the valiant struggle of Great Britain's Royal Air Force against the onslaught of the numerically superior German Luftwaffe during the summer of 1940
The film opens as France falls in May 1940, and the British and their allies avoid capture with the massive evacuation at the coastal city of Dunkirk. With time to regroup and strengthen their home defenses, the British lie and wait for Hitler's forces to eventually invade England.
The film is told through a collection of fighter squadron groups (English and German) who are veterans in the skies over France and the low countries during early 1940. Like many films of the mid to late 1960's, Battle of Britain has its fare share of brilliant English and German actors. Screen legend Sir Laurence Olivier leads the cast as Chief Air Marshal H.C. Dowding who helped to coordinate British forces to total victory in the battle.
Other screen greats include Harry Andrews, Michael Caine, Edward Fox, Trevor Howard, Curt Jurgens, Ian McShane, Kenneth More, Nigel Patrick, Christopher Plummer, Michael Redgrave, Ralph Richardson, Robert Shaw, Patrick Wymark, and Susannah York.
One aspect which makes Battle of Britain such a grand war film is the fact that it has one of the largest collections of German and British fighters and bombers, more than any other film made before or since. Many of the German planes used in the production were on loan from fascist ruler Francisco Franco's Spanish air force.
As tensions mount, Hitler assures the British that they shall be left alone if Germany is given a free hand to conquer the rest of Europe. Unable to accept such conditions, newly elected prime minister Winston Churchill prepares the population for Hermann Goering's campaign to clear the British skies so that "Operation Sea Lion" (invasion via the channel) can commence.
When the battle begins in August, the Germans send countless sorties against air fields in southeastern England and eventually come within range of London. Feeling the strain in lack of experienced pilots and supplies, the British along with their secret weapon (Radar) start to change their tactics and begin to inflict massive casualties against the self satisfied Germans who feel they can win through superior air power.
My favorite scene in the film is when a group of foreign pilots in the R.A.F. eagle squadron who are Polish and don't understand a word of English, lead a successful attack against a group of German Henkel bombers returning from a bombing mission. The Polish pilots and their English squadron commander become heroes and help to pave the way for all foreign squadrons to be quickly commissioned into active service.
In one scene, a Polish pilot bails out of his spitfire fighter and lands in a field where due to his broken English, farmers assume he's a German pilot. A truly hilarious scene. Amazing aerial photography and an exceptional score from composer Ron Goodwin give Battle of Britain all the earmarks of a classic war film.
Battle of Britain is available on both collector's DVD and Blu-ray disc through MGM/UA home video as well as on one or more streaming services.