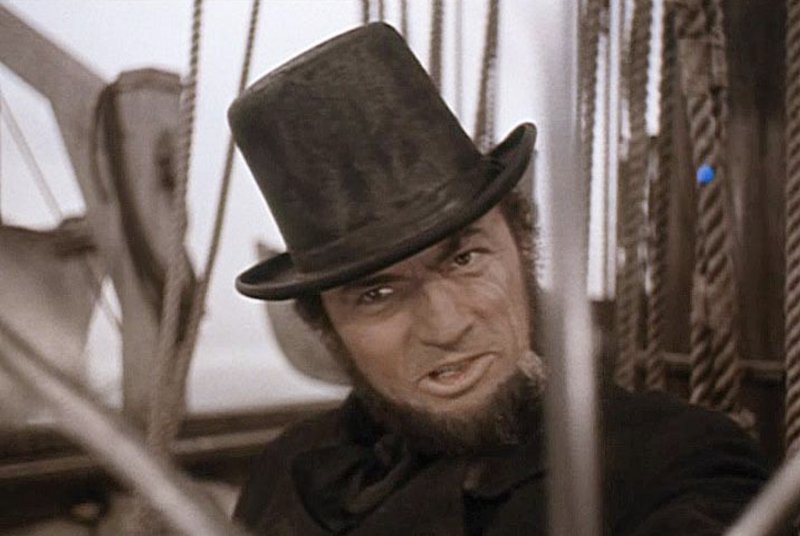 It's time for another edition of Revisiting John Huston. A semi-regular series where we take a look at the films and career of the legendary director. This week we're revisiting Huston's 1956 film Moby Dick, based on the novel by Herman Melville.
Moby Dick is probably the pinnacle of 1950s Huston. Moving from his '40s adaptations of contemporary American pulp (The Maltese Falcon) and popular works (In This Our Life) to more ambitious projects (The African Queen, The Red Badge of Courage, Moby Dick, and, eventually even The Bible), the decade marks a grandiose turn in Huston. It's a bittersweet transformation, however.
On the one hand, these works have a high spirit of adventure to them that still holds up and stay true to the original material. On the other, they lack the deeper, personal, more profound humanity of his earlier films.
Moby Dick is grounded firmly in the former, and, watching it now in 2010, nearly 55 years after it was made, it's still a fun watch. Moby Dick is among the finest novels this country has ever produced. It's held a special place in this English majors' heart since college, when I took an hour-a-week class on it taught by my grizzled advisor "Uncle" Vic, a mid-fortiesh Virginian with a dusty leather jacket, beady horse eyes, and a half-kempt beard.
The class was only an hour and held once a week. But in it, we exhausted nearly every theme, brought in a biology professor whose specialty was cetology, and garnered an appreciation for Melville's epic prose.
Huston's Moby Dick isn't so much concerned with symbolism, religion, and all the thematic density of the novel as it is with capturing the adventure. There's still a depth to it, though. The characters remain true to Melville, and all the big moments are there: Father Mapple (played with apt grandeur by Orson Welles), Ahab's epic monologue, the hammering of the doubloon to the mast, etc.
But it's more spectacle than theme. Gregory Peck's Ahab is hardly ever not shot from the ground looking up or in close-up. The ships and towns are painstakingly rendered and the whale is a monstrous construction that makes Jaws' "Bruce" seem petty.
Huston notes in his autobiography that Moby Dick was the most difficult picture he'd ever worked on, and watching it, I believe him. While he's reticent to discuss many of his films in detail, Moby Dick receives a nigh-unprecedented nine pages dedicated to it, most of them detailing the trials of making the film.
The Plot: If you don't know it, you probably never will. But if you're ever walking down the street and a stranger comes up to you, puts a gun to your head, and says, "You son of a bitch, tell me the plot of Moby Dick," here's a quick summary: Ishmael, a wayfarer, signs up with a whaling expedition aboard the ship Pequod, captained by the enigmatic and mysterious Ahab.
As the expedition gets underway, Ahab abandons the commercial venture to pursue a personal vendetta against the titular Moby Dick, a fearsome white whale who's responsible for Ahab's missing leg.
What's Good About It: Like I said, the adventure still holds up. Huston and co-writer Ray Bradbury (yes, that Ray Bradbury) do as much justice to Starbuck, Queequeg, Stubb, Flask, and Ahab as can be done cinematically, preserving their personalities. Peck and Welles give virtuoso performances that, despite the language and operatic delivery it requires, never slip into cheesy melodrama.
The special effects, while obviously dated, are more noticeable for their quality and effectiveness than fodder for ridicule. The whale is a gigantic prop, but 55 more years from now it's going to look more real than most current CGI will seem in half a decade. And the scene where Ahab extinguishes St. Elmo's fire from his harpoon is more than eerily convincing, due in no small part to Peck's acting.
What's Wrong with It: Huston himself said that it's unlikely anyone could truly adapt Moby Dick, so filtering the major themes of the novel to distill the bare essence was undoubtedly the right idea. Still, Melville's story at once demands that certain events be included, whether they're slow or not, and with a two-hour running time there's naturally some lags.
The strength of the novel is its narrative innovation and Melville's melodramatic language, two things that are next-to-impossible to convey on screen well. Huston pulls off the latter, but (albeit for the best) not the latter.
And I should dock some points for the really bad dubbing of Huston's own voice over the innkeeper, but it's pretty damn funny.
Inevitable Hustonism: Gregory Peck rides a giant goddamn whale and stabs the shit out of it with his massive dong-shaped harpoon—all the while shouting about Hell. If you don't think that's the epitome of Manliness, you're a prick.
Tales from Production: Huston spent New Year's Eve 1955 inside the prop whale with a bottle of heavy-proof booze.
Trivia: Ray Bradbury's terrified of traveling on planes and was reduced to tears from riding in a car traveling at a scant 10 miles per hour.
Moby Dick stars Gregory Peck, Richard Basehart, Leo Genn and Orson Welles. It's written by Ray Bradbury and John Huston, adapted from the noel by Herman Melville and directed by Huston. It's available of DVD, Blu-ray and on various streaming services.