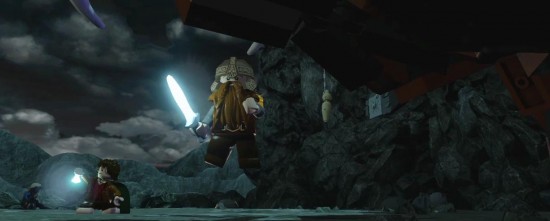 One aspect of LEGO games that has always stood out was the central hub location where players would go in and out of missions. Originally, this was a small location of only a few rooms that chapters could be explored by entering. This was the primary setup for LEGO Star Wars and LEGO Indiana Jones. More recently, LEGO Batman 2: DC Super Heroes changed this format with an open world Gotham for players to traverse and go into story missions when they saw fit. Now, Traveler's Tales needs to switch up for the format again for LEGO The Lord of the Rings.
While it made sense in LEGO Batman's world for the caped crusader to be able to travel around Gotham at his whim, that just isn't the case with the tighter narrative that needs to be told during The Lord of the Rings. Even in LEGO format, The Lord of the Rings needs to have a clear beginning and ending location that players can't just skip to. As anyone who has watched, or especially read The Lord of the Rings, it isn't the destination that mattered to the story as much as it was the journey that got the heroes there.
We get some further behind the scenes in this Developer Diary too with the first glimpse of multiplayer split screen co-op as well as some of the famous scenes from the film. The team even reveals to us that everything that we see in the game is something they build in real life. They even show off the dream stockpile of LEGO bricks they keep in house so they can put all these creations together.
Take a look at the developer diary below for all this and more. Stick to The Flickcast for more on LEGO The Lord of the Rings coming to XBox 360, PlayStation 3, PlayStation Vita, PC, Wii, Nintendo DS and Nintendo 3DS on October 30th.