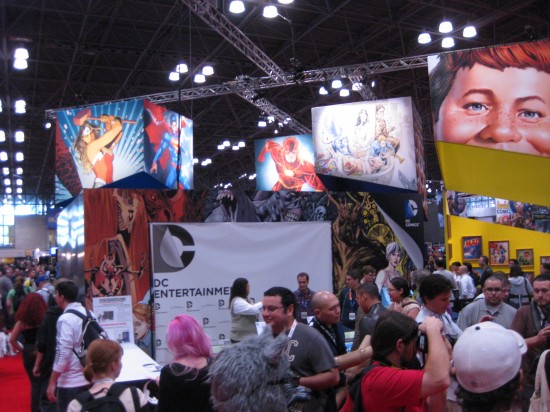 Unfortunately due to prior commitments, I was only able to make my way down to the New York Comic Con this year for preview night. While it was great to be able to take to the floor and not be mowed down by waves and waves of people, part of what makes a Con great is being surrounded by your fellow geeks. But even though it wasn't the storm of crazy that usually envelopes the show floor by Friday or Saturday, there was still tons to see at the Con.
In the gallery below, check out some of the great booths from the show as well as some early cosplayers. One thing that stood out this year at NYCC is just how much video games were represented. PlayStation came in with a booth the same size as their San Diego setup including a huge diorama for God of War: Ascension. Meanwhile, Nintendo had two areas set aside: one for the 3DS and one larger area featuring both Wii U and 3DS titles. Not to be outdone, Microsoft came in with their biggest gun, Halo 4 which boasted a 45 minute to hour wait time on the least crowded of the show days for one round of multiplayer.
Take a look at all NYCC had to offer after the jump and we will try our best to find some more photos from the show floor from the rest of the weekend if at all possible!