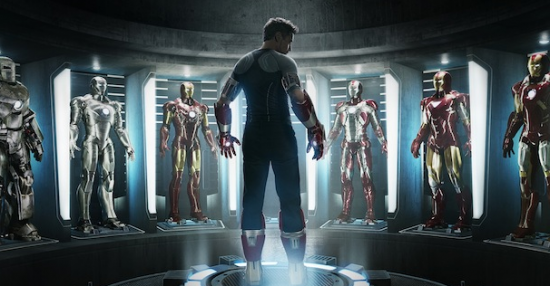 This week is going to belong to Iron Man and Marvel Studios, today we have the first look at the teaser poster and an actual shot of The Mandarin for you to oogle over. Tomorrow we will get a glimpse of the first teaser trailer for next summer's blockbuster to be and by Friday all of this will be dissected 1000 times over by the fan community and we will know if the film will suck or not. Things move fast these days.
First up is the teaser poster, which gives away absolutely nothing new. It is just a stylized version of Tony's hall of armor with an unsuited Stark looking back to stare deeply into the audiences eyes as he ponders 'what should I wear?'. It is a fine poster and actually ranks as one of the better Iron Man one-sheets to date. Posters is oddly one aspect of the Marvel Cinematic Universe that has been lacking over the last few years.
The second image for you to feast your eyes on is Sir Ben Kingsley as The Mandarin. For those who are not comic fan boys first, The Mandarin is the arch nemesis of Iron Man and has not made an appearance in the films, but his presence has been felt in the guise of the ten rings syndicate which is likely his criminal force.
Take a look at both after the jump.
It is hard to tell from a single still if Kingsley nailed Mandarin, but he certainly looks the part. This character is going to be tricky because he has roots as a very Asian stereotype and China is a co-financier in the film. Hopefully that means they found a good way to adapt him.