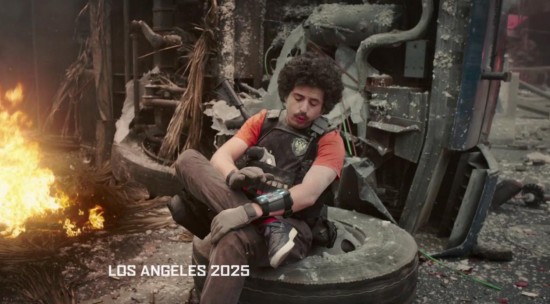 If there one thing that Activision has mastered it is knowing how to hype up their Call of Duty franchise releases. Whether it has been pairing with Eminem for an E3 concert or huge advertising budgets, each year they make the franchise bigger and bigger With just two weeks to go, Activision and Treyarch kick things up one more time with the Live Action Trailer follow up to Jonah Hill pushing Call of Duty: Modern Warfare 3 from last year.
In the "Surprise" Trailer below, there is an interesting combination of celebrity cameos combined with various gameplay mechanics to help push Call of Duty: Black Ops II. While we will let you catch the cameos on your own, we will let you know that the air strike, the tank combat mechs and even the horse all make their way into the trailer. For the first time too, the Zombie mode gets a spotlight in the trailer as well. Director Guy Ritchie brings together everyone from Hollywood A-Listers to internet sensations together for this trailer.
Activision let us in on some insight into this year's Call of Duty: Black Ops II campaign:
"With Call of Duty we are re-writing the rule-book of how games are marketed. This is more than a product launch, it's become a cultural event. And, what Treyarch has created this year with Call of Duty: Black Ops II is nothing short of the most innovative Call of Duty title yet," said Tim Ellis, CMO, Activision Publishing. "So our mission is to meet this creativity with the most dynamic and far-reaching launch campaign we've ever done. Everything we do is geared toward reaching our fans – the best community in the world – to celebrate with them the launch this November 13th."
This year, more than 15,000 retail outlets worldwide are scheduled to open their doors at midnight on Tuesday, November 13. Additionally, Activision will support the game through a global outdoor advertising campaign that will run in eight cities and across more than 450 media placements around the world with support from the media agencies OMD and MEC, respectively.
To support the launch blitz, Activision teamed up with Bad Robot Interactive to release a Call of Duty takeover to Bad Robot's mega-hit Action Movie FX app, which is a free download available now on iPhone and iPad. The app enables fans to film real world environments with their phones, only to bring mayhem to them using Call of Duty: Black Ops II near-future weaponry. Additionally, fans can use the scan function in the app, to unlock and unleash exclusive new weapons for use in the app from the upcoming game.
Call of Duty: Black Ops II comes to XBox 360, PlayStation 3 and PC in two weeks on November 13th and the Wii U on November 18th. Stay tuned for more Call of Duty: Black Ops II news and a review for the game as well.