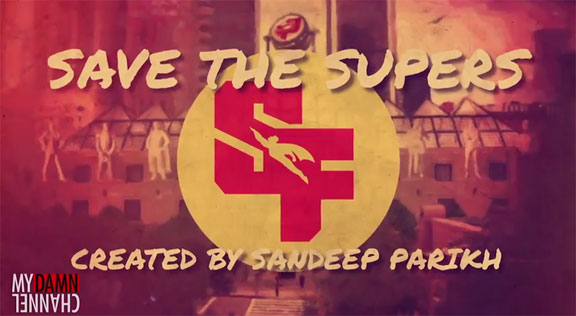 If you crossed the superhero drama and action of The Justice League with the comedy and style of The Office it's a good bet you'd have a hit. That's exactly what actor/writer/director Sandeep Parikh has created in his latest web series Save the Supers.
Parikh and the cast and creators of Save the Supers were on hand at Long Beach Comic & Horror Con to talk about how the show came together. Known for writing and directing the popular Comedy Central web series Legend of Neil and for his role as Zaboo on The Guild, Parikh initially created Save the Supers in 2004. It took until 2012 for his idea to truly come to life but now Parikh's creation is pulling in 50,000 – 75,000 views per episode and it's easy to see why. With satirical but creative characters and smart, snappy dialogue, the show will resonate not just with comic book lovers but also with anyone who enjoys being entertained.
Save the Supers follows the Super Force as they face down super villains, navigate office romances, and battle their ever-shrinking budget. Check out the season premiere after the break and see more of Save the Supers on My Damn Channel.