If you have a young male gamer in your family anywhere between the ages of 6 to 36, you have most likely heard of Skylanders. What seems like a simple adventure game takes on the addictive nature of Pokemon style in-game collection alongside real life figurines (a staple of any geek lifestyle). Skylanders Giants comes as the second iteration of what will likely become a yearly franchise for at least the foreseeable future from Activision and developer Toys for Bob that adds some new gameplay dynamics and, more importantly, a slew of new figures for gamers to collect.
The Long
Skylanders Giants kicks things off following the events of the original Skylanders: Spyro's Adventure. There is a little bit of meta going on with the story as the antagonist Kaos finds himself in our real world and sees the Skylanders trapped in toy form. After transporting himself back to Skylands, Kaos finds out about a mystical artifact that will allow him to control a robotic army and take over Skylands.
Meanwhile, the player finds out that the ancient Giants, who were the first Skylanders, have been found and they can be awakened to stop Kaos and the robotic army. Yes, it does sound like a Saturday morning cartoon but that is a part of the charm of Skylanders Giants.
Just as the story has a whimsical youthful feel to it, so does the character design. All of the Skylanders from the original game return along with eight new Skylanders and eight Giants. The designs stay in line with the different elements of the game like Life (trees), Death (skeletons), Tech (mechanical) and others while keeping the designs of the new characters original as well. The Giants are unique both in their size on-screen and in their design as well. They have a larger than life feel with the way they interact with other characters and objects on-screen.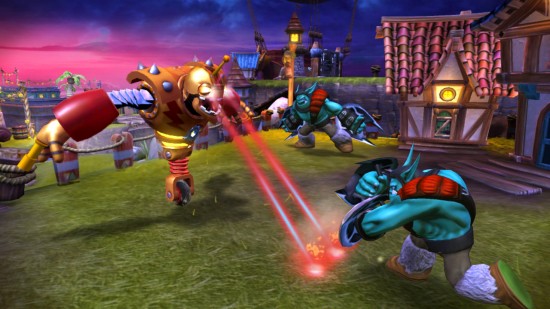 Surprisingly though, Giants don't play all that different from regular Skylanders. There are certain instances players must put a Giant to work to perform certain feats within the game like pulling chains to reel in neighboring islands or to push over a huge stone slab to create a bridge but most of these instances are optional just to open up secret areas of a level and don't have a huge impact on the overall progression. There are actually times the Giants themselves take away a little bit of the strategy and challenge for certain areas.
At some points, players have the option of blasting away a section of wall by grabbing a bomb and running it across part of the level and launching it before it explodes as they would in Skylanders: Spyro's Adventure. Instead, now with the Giants, players can just toss a Giant into the game and they can smash that wall. It almost acts as a mini cheat in that way. It seems somewhat like a wasted opportunity to not try to separate the Giants from traditional Skylanders with full levels that were specific to them to further set them apart from their half-size colleagues.
As far as combat, there is a lot of button mashing as players have a fairly limited assortment of attacks they can perform. Each Skylander has different specialties whether it is range, melee or other unique attack styles. Fright Rider has a spear and charges into battle. Jet Vac shoots bursts of air like damage opponents and sometimes push them back to help keep a distance. Pop Fizz throws potions at enemies for a range game or can drink one of his own and become a berserker-like gremlin that thrashes away at close proximity. The Giants have the differing styles in their move sets as well.
The major difference with the Giants in combat though is that while they are stronger and have more health, they are slower than normal Skylanders as well. This means that they are not surefire guarantees in battle. A Giant that gets surrounded and cannot make a hasty retreat from a special attack during a boss fight is actually more at risk than a regular Skylander. This is especially true in the game's final battle where small intricate movements are needed to survive the attacks thrown at the player.
Much like Sklanders: Spyro's Adventure, Skylanders Giants has the addictive fun gameplay of hot swapping out characters to meet the challenge ahead of them. Whether it is pulling out the right character for a specific combat need or to unlock a certain elemental door, it quickly becomes apparent that players are going to want more than just the initial three characters, Tree Rex, Cynder and Jet Vac, that come with the starter set. Between the original Skylanders and the more than forty new figures (some brand new and others redesigns of previous Skylanders), there is no shortage of characters to add to the collection.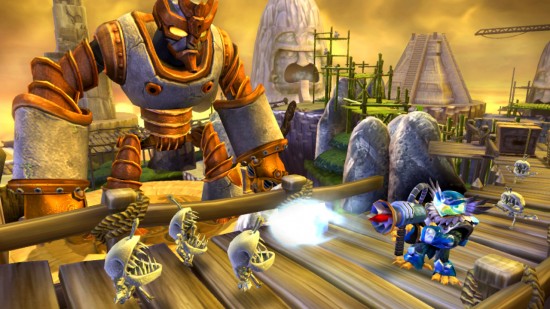 New to Skylanders Giants are the arena battles. Outside of the story mode, players pick a single Skylander and must face three waves of varying enemies with a unique challenge. Sometimes, players cannot harm enemies directly and must knock them off the stage or push them into traps. Other times, a player may only have a single health point and must avoid being hit through the entire battle. These end up being a welcome addition to the character based heroic challenges which return to from Skylanders: Spyro's Adventure.
The one new addition to Skylanders Giants that may split the audience is the mini game, Skystones. In it, players must place stones, representing various in-game creatures on a tic-tac-toe style board. Stones placed next to each other "battle" by comparing notches with their adjacent sides and the higher notch count allowing for new stones to take over already placed ones. As players progress further, the added challenge comes from elemental specific squares (which will cause a player's stone to shatter if it is not the correct element) further adds to the challenge or complicates things, depending on your perspective. The negative is that some areas and items will only be accessible by playing Skystones. Especially for younger players, this is going to present a problem. On the same token, it adds a layer of challenge that players also weren't expecting and is necessary to keep more experienced players coming back.
It's impossible to mention Skylanders Giants without talking about the voice actors. Some like Flynn who is voiced by Patrick Warburton play huge roles throughout the entirety of Skylanders Giants' story. Others like Pop Fizz who is voiced by Bobcat Goldthwait or Kaos' robotic Arkeyan Conquertron which is voiced by George Takei add their own personal touches to the game making it feel like an all-star cast of cameos and staring characters. Like many youth driven games or television shows though, the player is often addressed by characters on-screen but is never given a voice, helping put that player in the role of the Portal Master that is helping control the Skylanders as opposed to actually being one of them.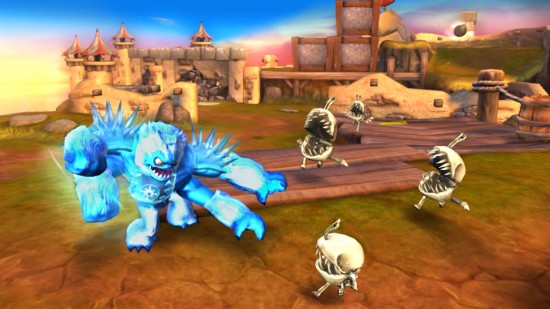 and the Short
On the surface, Skylanders Giants looks like just another "kid's game". Bright character designs with an action figure marketing tie in. But Skylanders Giants goes the extra step needed to attract other gamers. From challenges to arena battles to the three star completion requirements for each level along with a horde of collectible items in-game, there is no shortage of tasks for players, young or old, casual or hardcore, to accomplish.
While there have been some changes made, there haven't been any drastic leaps or bounds in terms of new gameplay that sets Skylanders Giants apart from its original. Even with the new Giants mechanics, the changes made are "safe" ones that don't drastically disrupt what worked so well in Skylanders: Spyro's Adventure. Especially with a game that is being mainly marketed towards a fickle youth audience, it is understandable why they would keep the gameplay in the sequel so close to what it was in the original.
At the same time, they were able to unleash a new horde of figures for people to purchase and play as. As a result, Skylanders will again be one of the top gaming and toy purchases this upcoming holiday season. And luckily, it also looks like this won't be the last we have heard from the Skylanders or the infamous Kaos.
XBox 360 (also available on PlayStation 3, Wii, Wii U and Nintendo 3DS)
Developer: Toys for Bob
Publisher: Activision
Price: $74.99 (Starter Pack), $59.99 (Portal Owners Pack)
Score: 8.0