It's the announcement that pretty much everyone knew was coming. With a second game based on The Walking Dead (this time off of the hit AMC TV series) due out in 2013 and being based on the characters of Daryl and Merle Dixon, it'd be downright silly of Activision to put out this game without the duo of Normal Reedus and Michael Rooker lending their likenesses and voices to The Walking Dead: Survival Instinct. Activision knows this as their PR has stated that "Their addition is central to developer Terminal Reality's commitment to delivering an engrossing, original experience that stays authentic to the characters, tone and storyline of the series." Rooker actually recently lent his vocal talents to a little game called Call of Duty: Black Ops II.
In the game, players assume the role of the mysterious, crossbow-wielding survivor Daryl Dixon. This first-person survival title takes place within the universe of "The Walking Dead" and before the events of the AMC show, following Daryl and his brother Merle on a gruesome journey to reach the supposed safety of Atlanta as the world around them ends. Reedus and Rooker will bring life to their characters' desperate, unforgiving struggle against limited resources, the nightmarish walkers and, perhaps, their fellow survivors…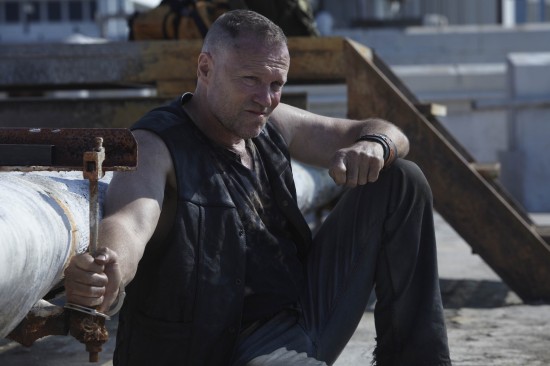 The biggest question right now isn't even if the game itself will be good. With no footage seen yet, there hasn't be enough speculation. The question has become, does there need to be more of The Walking Dead? We already have a comic book and television show which have taken similar but divergent paths. There are two sets of action figures, some modeled off the books and others from the TV show. And The Walking Dead game that came out from Telltale is being considered by some to be one of the best games of 2012. Many have actually said that The Walking Dead is better than any licensed game has any right to be. While it is going to be a completely different style of gameplay going from Point and Click Adventure gaming to a Survival based First Person Shooter, the team at Terminal Reality is going to have some loft expectations behind them with The Walking Dead: Survival Instincts.
The Walking Dead: Survival Instinct is coming to the Xbox 360, PlayStation 3 and PC in 2013. Preorder information can already be found at www.TheWalkingDeadBegins.com. So far, no preorder bonuses have been announced.