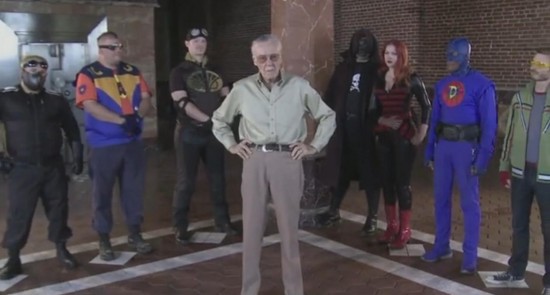 Real life costumed heroes. It sounds like something that could never actually happen. People running around in tights, boots and masks and trying to make the world a better place just seems so fantastic that it couldn't become a reality. But recently, there has been a trend of people doing just that. Though they don't have super powers, these people go out trying to do what they can to make a difference in the world. And who better to guide these fledgling heroes than the man who helped create some of the world's most iconic fictional heroes, Stan Lee.
Starting next Thursday on Stan Lee's World of Heroes YouTube network, Stan Lee will be launching his newest project Stan Lee's Academy of Heroes (say what you will about the man but he sure knows how to brand himself). Stan will take a group of these real life hero wannabes and help train them to become the heroes they envision themselves to be. These aren't cosplayers. These are people going out and actually doing things to try and help those around them. Along with guest trainers like David Hasselhoff, Stan and his team will help heroes work with their strengths and overcome their weaknesses in order to find one worthy of joining Stan Lee's World of Heroes.
Take a peek at the full trailer below for Stan Lee's Academy of Heroes to see Stan, his trainers and most importantly the group of heroes he is going to try shaping up to be ready for the big time. Stan asks, "What makes a super hero?" Well starting on next Thursday, we will find out if any of this cast of colorful characters has what it takes to fulfill their dream of making the world a better place. Stan Lee's World of Heroes YouTube channel can be found here. Excelsior!