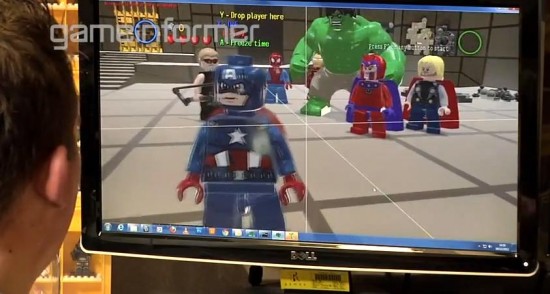 Like much of the news in the gaming world, this bit was broken to everyone through Game Informer. Despite the fact that a print magazine is getting exclusives still amazes us, it is still exciting news none the less. It looks like Traveller's Tales is already well underway to make the LEGO Marvel franchise a reality with the official announcement of a LEGO Marvel Super Heroes game.
Spider-Man. Hawkeye. Wolverine. Hulk. Magneto. Iron Man. Thor. Loki. Deadpool. Magneto. Captain America. From the looks of the early footage from Game Informer behind the scenes at Traveller's Tales, it looks like this full list will be getting the LEGO treatment. It is worth noting that all these guys have already had LEGO figures made and there is potential for hundreds more Marvel characters to be brought into this brick world.
After the success of the LEGO Batman game franchise it was only a matter of time before the Marvel side of LEGO was brought into the mix. Interestingly enough, this is the first time that a company was developing for both a Marvel and DC game in the same time period. Traditionally, DC games have usually been tied in to their film or TV franchises while Marvel has been producing games both in and out of their films. Marvel games have also been split between various developers while DC games are mostly created under the Warner Bros. Interactive Entertainment banner.
While tons of details like the game's full cast, a release date and exactly which systems LEGO Marvel Super Heroes will appear on, it's great to see the process has begun. Take a look at the full Game Informer trailer below. Stick to the Flickcast for more on LEGO Marvel Super Heroes as it becomes available.

[youtube http://www.youtube.com/watch?v=P8c-9pM7VPA&w=560&h=315]