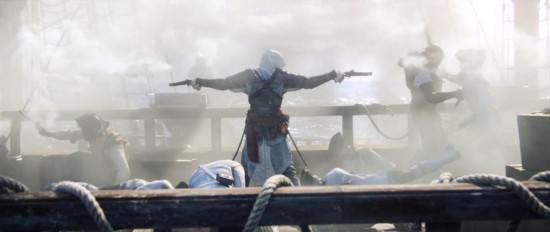 Last week we reported about the leaked image attached to the title Assassin's Creed IV: Black Flag. This new Assassin's Creed game rumor lined up with previous statements about a new lead character and a new locale as well. Yesterday, Ubisoft revealed these rumors to be true with an official trailer revealing the game as well as a character trailer showing off the new protagonist Edward Kenway.
The first trailer starts off with Blackbeard (coincidentally, Blackbeard was who I researched to give the possible time frame that the events of the game will take place when looking at famous pirates in history). This means that the game has to take place before the events of Assassin's Creed III since Blackbeard was dead by 1718. This could be an indicator that Desmond Miles may in fact not be the modern day protagonist for the game as well as Desmond's memories took place chronologically.
It looks as though Edward Kenway is one of the most well equipped assassin as well. He carries two sets of pistols as well as two swords. Dual wielding may end up being an option both for swords and guns as a result. Edward Kenway's character trailer also reveals him using a bottle in combat, meaning that maybe environments have more interactive abilities that can be used during a fight. Not surprising, the hidden wrist blade makes its return.
Finally, it will be coming out on November 1st for XBox 360, PlayStation 3, Wii U, PC and "Next Generation Consoles". This could be a very strong indicator from the plural "consoles" that the next XBox (as expected) will be out around that same time as well in addition to the PlayStation 4.
Make sure to check out both trailers below and to stick to the Flickcast for more on Assassin's Creed IV: Black Flag and all the rest of your gaming news.