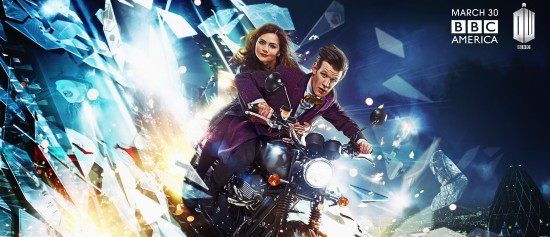 Geronimo! BBC America has released images from the first four episodes of the second half of season seven for the show that takes viewers through all of time and space. The pictures show not only Matt Smith's Eleventh Doctor but also Jenna-Louise Coleman's companion Clara and guest stars Dougray Scott and Jessica Raine. Warning! Spoilers may follow!
Doctor Who returns with the thriller episode, The Bells of St. John, which introduces a new enemy known as the Spoonheads. Seven more episodes are set to finish out the 7th season of the timey whimey show. Since this is Doctor Who's 50th anniversary we can expect some surprises.
In a press release from BBC America, lead writer and executive producer Steven Moffat said: "It's the 50th year of Doctor Who and look what's going on! We're up in the sky and under the sea! We're running round the rings of an alien world and then a haunted house. There's new Cybermen, new Ice Warriors and a never before attempted journey to the centre of the TARDIS. And in the finale, the Doctor's greatest secret will at last be revealed!  If this wasn't already our most exciting year it would be anyway!"
Catch Doctor Who when it returns on March 30 8 p.m. ET on BBC America.