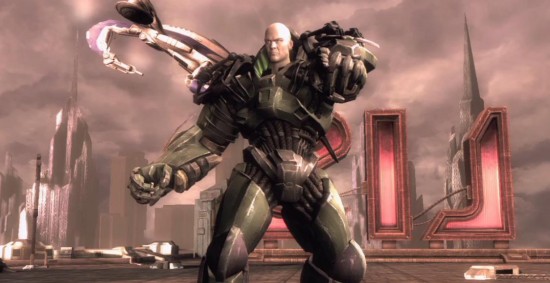 There's really something to be said for the ingenuity and personality behind Lex Luthor. When a man of nearly undefeatable power made his presence known, Luthor's xenophobia made him stand up and throw everything he could to topple the Man of Steel. But the second he finds out that Superman's safety switch has been turned off, he swaps to the other side.
In the latest trailer for Injustice: Gods Among Us, we see where Lex Luthor stands in the battle between heroes as Batman and Superman stand at opposing fronts for the freedoms of the DC Universe. The trailer also gives us some insight as to where other characters such as Hawkgirl fall as well.
With the recent revelations of the Injustice: Gods Among Us comic (don't worry, we'll keep it spoiler free for now), the world is becoming a very different place and hero is pitted against hero. Unlike the events of Mortal Kombat vs. DC Universe, Injustice: Gods Among Us has characters consciously choosing their sides which leads to some very interesting alliances in the game.
Check out the full Lex Luthor trailer below and stick to the Flickcast for more on Injustice: Gods Among Us coming to the Wii U, XBox 360 and PlayStation 3 on April 16th.