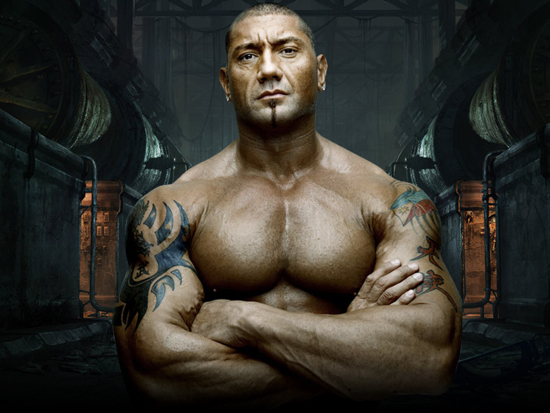 If you were looking for someone to fitting take on the role of a character whose last name is "The Destroyer", it isn't a shock to see that former WWE Champion Batista will be filling the boots of Drax in the Guardians of the Galaxy movie. Late yesterday, the Hollywood Reporter leaked the announcement that Dave Bautista would be taking on this role in Marvel's 2014 Summer Blockbuster.
Alongside Chris Pratt who will be playing the part of Star Lord, Dave Bautista will be filling the shoes of a team of cosmic heroes fairly unknown to the audience outside of the comic book world. Though having success in the better half of the last decade, the Guardians of the Galaxy are only known to the mainstream audience because of Marvel's announcements tying them in to the greater Avengers Marvel Studios film universe.
Though coming from the professional wrestling world, the six time world champion was featured in the third installment of the Scorpion King franchise before being cast as Brass Body in this past summer's The Man with the Iron Fists. He will also be in this year's Riddick as well.
The move to Drax will be a huge push for Bautista's acting career as this will most likely be one of the most highly promoted films of 2014. Additionally, most of what you'll see on screen will actually be Bautista himself. Unlike Rocket Raccoon or Groot which will primarily be CGI or Star Lord who will be wearing a helmet for at least some of the film, Bautista already has the physical prowess of Drax (though he is going to be covered in a lot of green for the role).
(And on a personal note, I want to send a congratulations to my former coworker and friend for getting a huge opportunity like this. Congrats Dave, you deserve it.)