I know. Just the word Monday deeply depresses most people when they see it. But that's why I bring you guys the Monday Freeview. To give you something to look forward to on the longest possible point before the weekend begins. And this week, we've got a big one for you: League of Legends.
With the Mac client finally going live, I decided to give one of the most famous Free-To-Play games on the internet a try. For those who don't know what League of Legends is, it is technically considered a MOBA (or Multiplayer Online Battle Arena) which is an offshoot of the RTS genre after the success of a Warcraft 3 mod that would go on to become DotA (Defense of the Ancients). Instead of worrying about the minutia of base building and resource management, players got to focus on what they all really carried about, playing as a hyper strong character and taking the fight to their enemy.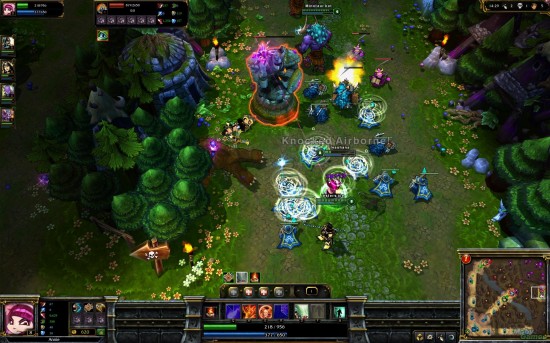 But in League of Legends, they don't have to do it alone. Games are either 5 vs. 5 or 3 vs. 3 and the objectives are pretty straight forward. Teams must make their way across the map to their opponent's base and destroy their opponent's nexus. The teams are accompanied by a never ending supply of minions that charge valiantly to their deaths regardless of the tide of battle as the player and their fellow champions fight it out.
What instantly was the most addicting aspect of League of Legends to me was the constant unlockables. During battle, players all start their champion off as level one. Killing minions, other champions and destroying structures unlocks new levels and abilities and at the same time, money builds up and allows for them to purchase higher quality gear. Along the way, optional side quests open up as well giving players added bonuses until one team takes the victory.
In addition, players are awarded Riot Points and Influence Points. These are both methods of unlocking new champions and skins for them. Riot Points are also available through microtransactions as well to allow players who aren't content with the game's starting champions or monthly rotation of free champions to add new champions to their ranks sooner. The price range of these new champions can range between a few dollars up to $10.
What's nice about League of Legends microtransaction model is it doesn't guarantee a win to whoever spends the most money. Players can unlock all of these champions through games played with influence points and never have to spend a dime. But it does allow for players who don't have the time to spend days in a game to get a quick unlock for a character that a friend has recommended to them or that they played and enjoyed when it was free to play for a previous month.
League of Legends is a paramount example of free-to-play gaming done right. Give the players something they love and they will pay for it. Give them the option to do it without having to pay for it too and no one feels forced into a corner by microtransactions. Those who get more and more into the game will pay for its extra features and unlockables while the casual gamer can still enjoy it regardless.
Make sure to stick to the Flickcast every Monday with the weekly Monday Freeview and of course, check out Riot Games website here to download your free League of Legends.