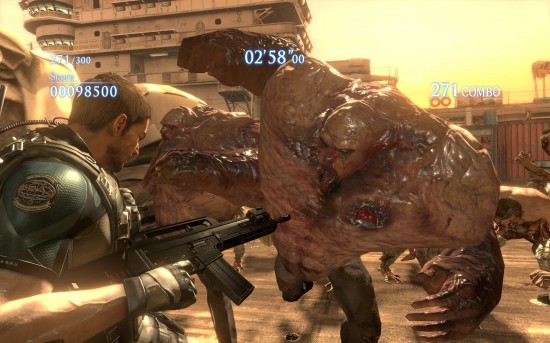 Mention the word zombies in a room of gamers and two franchises instantly come to mind. Resident Evil and Left 4 Dead. While other zombie franchises have tried to claw their way to the top, these two from Capcom and Valve respectively sit atop the zombie food chain. With Capcom's recent affinity for crossing over franchises with other publishers, it is great to see that they have come together with Valve to enable the Resident Evil 6 x Left 4 Dead 2 project.
In a completely free download, Resident Evil 6 PC players will be able to experience a new mode, "The Mercenaries No Mercy" featuring Left 4 Dead 2's signature cast – Coach, Nick, Ellis and Rochelle – as playable characters. Each will have a custom weapon load-out for the mode. Also making their debut to the Resident Evil world alongside the foursome of survivors are going to be the Witch and the Minitank. This mode will be going live on April 5th.
The crossover will be extending in to Left 4 Dead 2's PC version as well when Resident Evil 6's Lepotitsa, Napad and Ogroman make their way into the game. This addition to Left 4 Dead 2 will be happening this spring and sadly we don't have any screens for it yet.
Chet Faliszek from Valve commented, "We're huge Resident Evil fans, so when the opportunity arose to work directly with Capcom to combine L4D2 and RE6, we jumped at it."
Resident Evil 6 Producer Yoshiaki Hirabayashi also said, "The Resident Evil 6 team really enjoyed working on this crossover, and we're confident that our fans will have a great time with it too! We hope you enjoy this unique content."
Take a look below at all the new screens for the Resident Evil 6 portion of the crossover and of course stick to the Flickcast for all your Left 4 Dead, Valve, Capcom, Resident Evil, video game and just general zombie news.